Getting started with the Social Communication Curriculum
Welcome to the Everyday Speech Family! Looking for help to navigate through your user dashboard? Look no further!
If this is your first time using the Social-Emotional Learning Platform, you may want to follow along with our Everyday Speech Expert to help you get acquainted with it:
When first logging into the platform, you'll be presented with a Quick Start Video and suggestions of our most popular materials.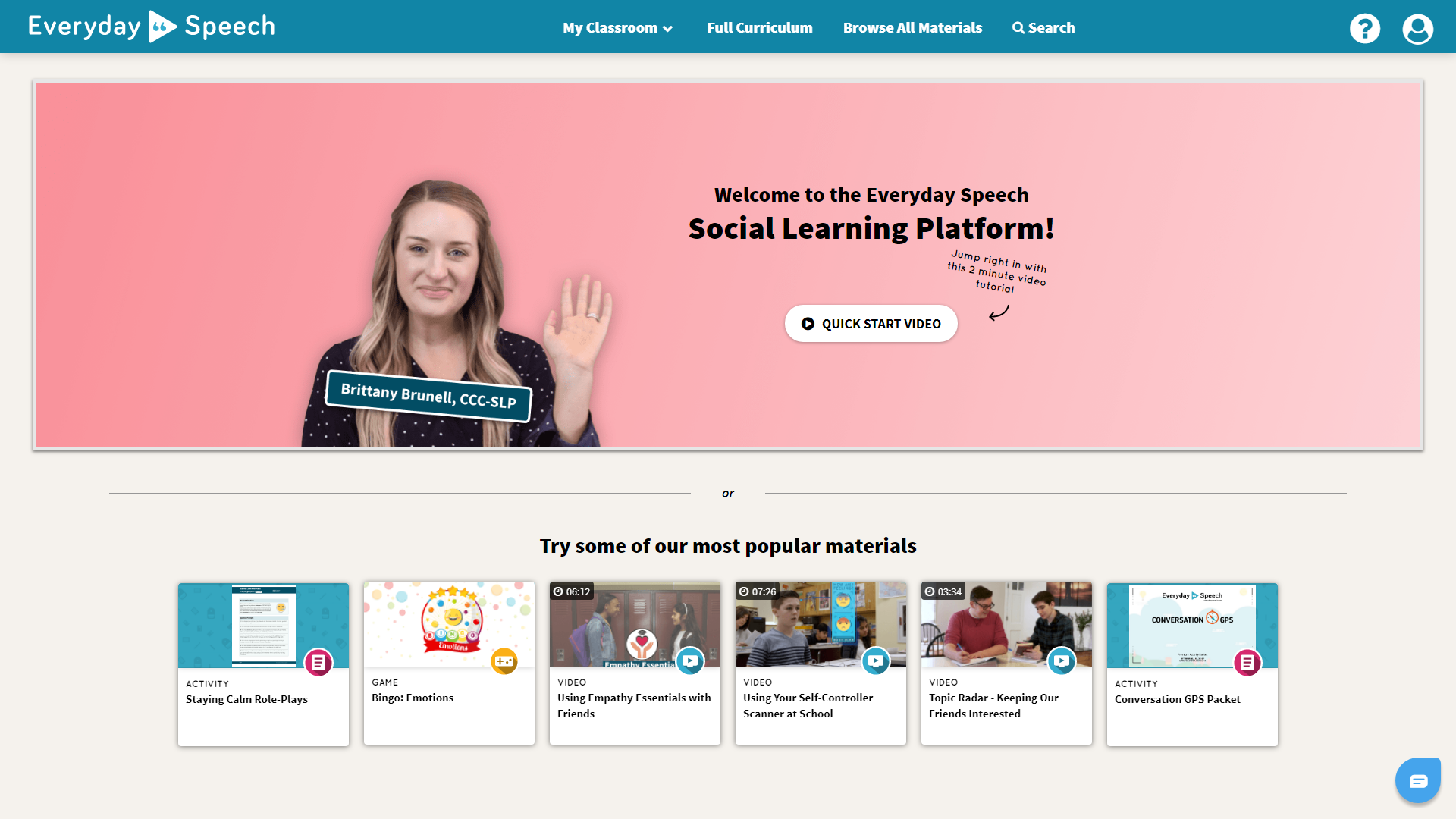 ---
Main Navigation Bar
My Classroom
With the My Classroom tab at the top of your dashboard, you can manage My Students & Groups, My Assignments, and view your Saved Lists. Learn more about the My Classroom feature here or follow along with our Everyday Speech Expert:
Full Curriculum
You can view your full curriculum in the 'Full Curriculum' tab above your dashboard! Here, you will be able to see all your skill sets and curriculum goals within each skill.
Browse All Materials
With over 400+ video lessons and more added every month, you can find all of the material you need just above your dashboard in the main navigation board.
Search
Looking for something specific? Search the title or skill in the search bar to find any material at your convenience!
---
After using SLP 4.0 for a little bit, you'll notice the first thing you see after logging in is a dashboard. Want to jump back into a video you saw earlier? It's right there for you. Want to pick up where you left off in the curriculum? You can see the Goals you viewed most recently.
As you view more materials inside the app, the dashboard will change to a custom view. Your dashboard is personalized based on the materials you've been working with, so it will look a bit different for everyone.
Recently Viewed Materials
At the top, you'll see your most recently viewed materials. This allows you to jump right back into a piece of material you recently opened. To find all the materials you've looked at so far, just click on that View All link next to Recently Viewed Materials and you will see a longer listing of your viewing history.
Recently Viewed Goals
All of the materials in our library are tagged with a Goal that they work on. You'll learn about these goals more in our Full Curriculum section, but here you'll be able to jump right back into any goals related to the content you've recently seen.
Saved Lists
A quick way to get to your saved lists, we show your most recently created lists here. To see all of your saved lists, click on the View All link or click on Saved Lists in the navigation bar.