Welcome to the upgraded Everyday Speech family! Ready to dive into the new features of our SEL curriculum?

We're going to be walking you through the basics of our updated SEL curriculum, now with additional grade tracks, support bundles, and more!
Not sure if you are using the SCC or SEL curriculum? Please see our article about the two curricula here!
---
TABLE OF CONTENTS
---
Logging in
If you are a first-time user of Everyday Speech, you will receive an email with login instructions.
If you do not receive this email, or you had an account with us previously, simply visit https://slp.everydayspeech.com/login and enter your email to get started!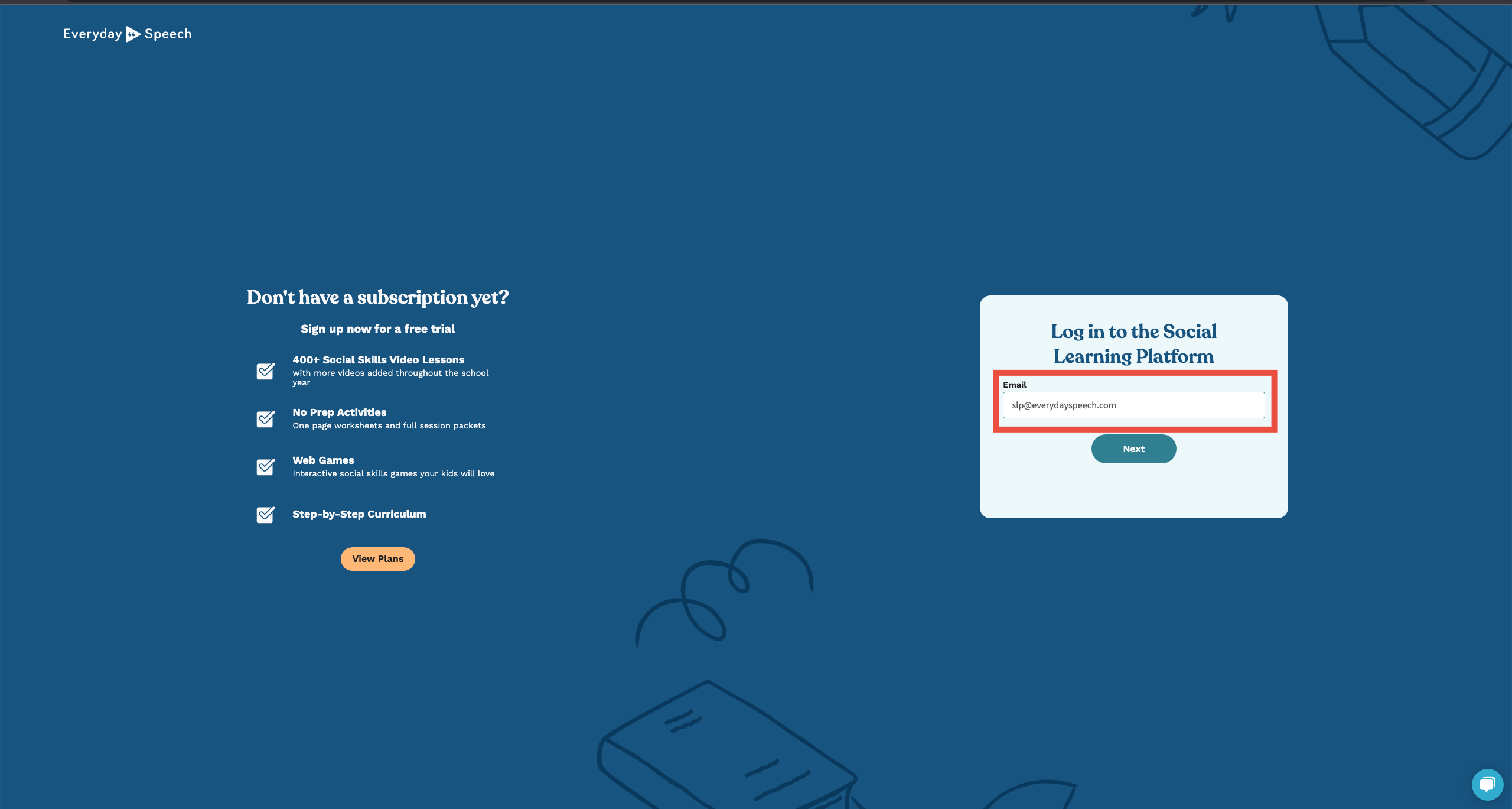 We recommend bookmarking this link to make logging in quick and easy!
---
Overview
Our SEL 3.0 curriculum follows all 5 social and emotional competencies from the Collaborative for Academic, Social, and Emotional Learning (CASEL). From day one, you are empowered with training tools. Soon enough, you will be an SEL expert, nurturing foundational SEL skills in an engaging way!

With 40 weeks of lessons for each grade, our SEL curriculum will take you through an entire school year. Our curriculum is in chronological order, and you don't need to prep a thing! We've now expanded our curriculum to include separate tracks for all grades 1-12, and we've unbanded the Preschool and Kindergarten curricula.
---
You can download a copy of our SEL overview document when you first log in, which has general information regarding SEL, the importance of SEL in schools, and our approach to teaching SEL: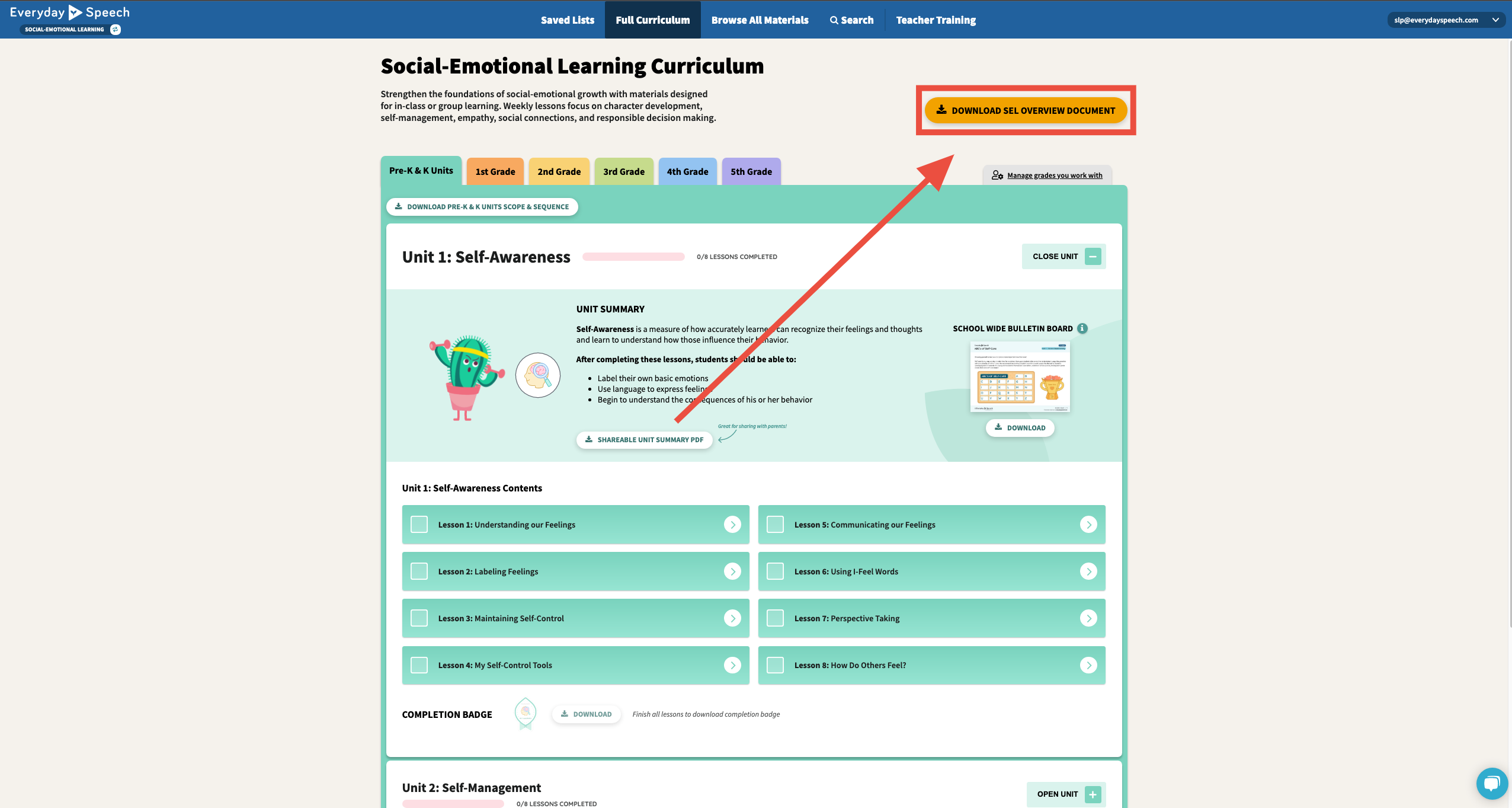 ---
You can also download a Scope and Sequence for the grades you are working with from the grade-level tabs. The Scope and Sequence include lesson titles and descriptions in chronological order so that you can see a year's worth of lesson descriptions in one place!
You can also download the Scope and Sequence here.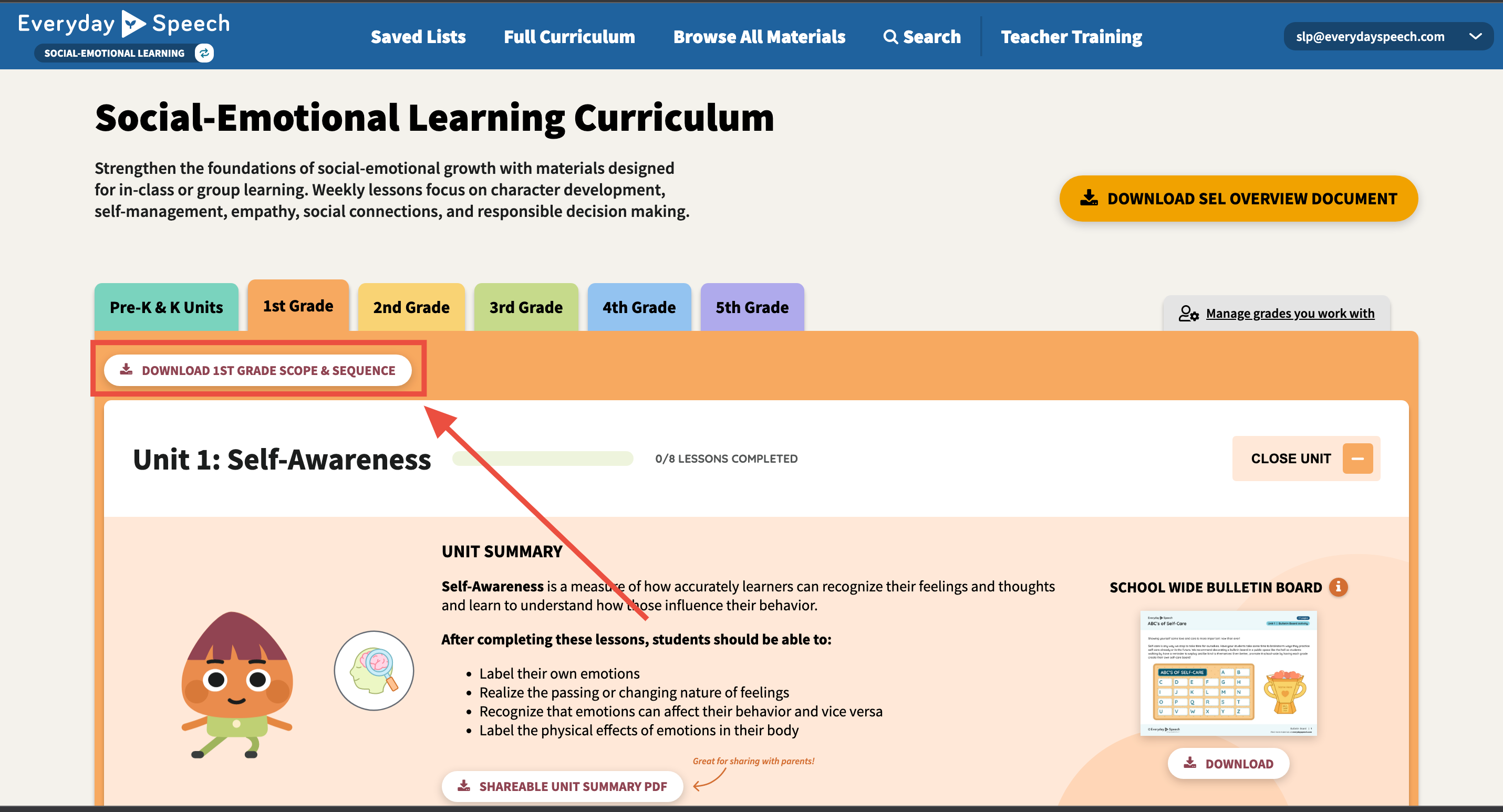 ---
Layout
We have a comprehensive SEL curriculum layout guide here. This article will show you how to navigate the SEL curriculum to become familiar with the layout.
---
SEL training for educators
Everyone is at a different point in their SEL journey - and that includes teaching professionals like you!
We pride ourselves on providing training materials to educators so that anyone who has access to Everyday Speech can successfully lead an SEL lesson, with no previous experience required.
---
Where can I find the training materials?
We have two kinds of training materials within our SEL curriculum - video training for the 5 CASEL competencies, and written training for each Lesson.
The video training can be accessed by clicking the Teacher Training tab in your blue navigation bar: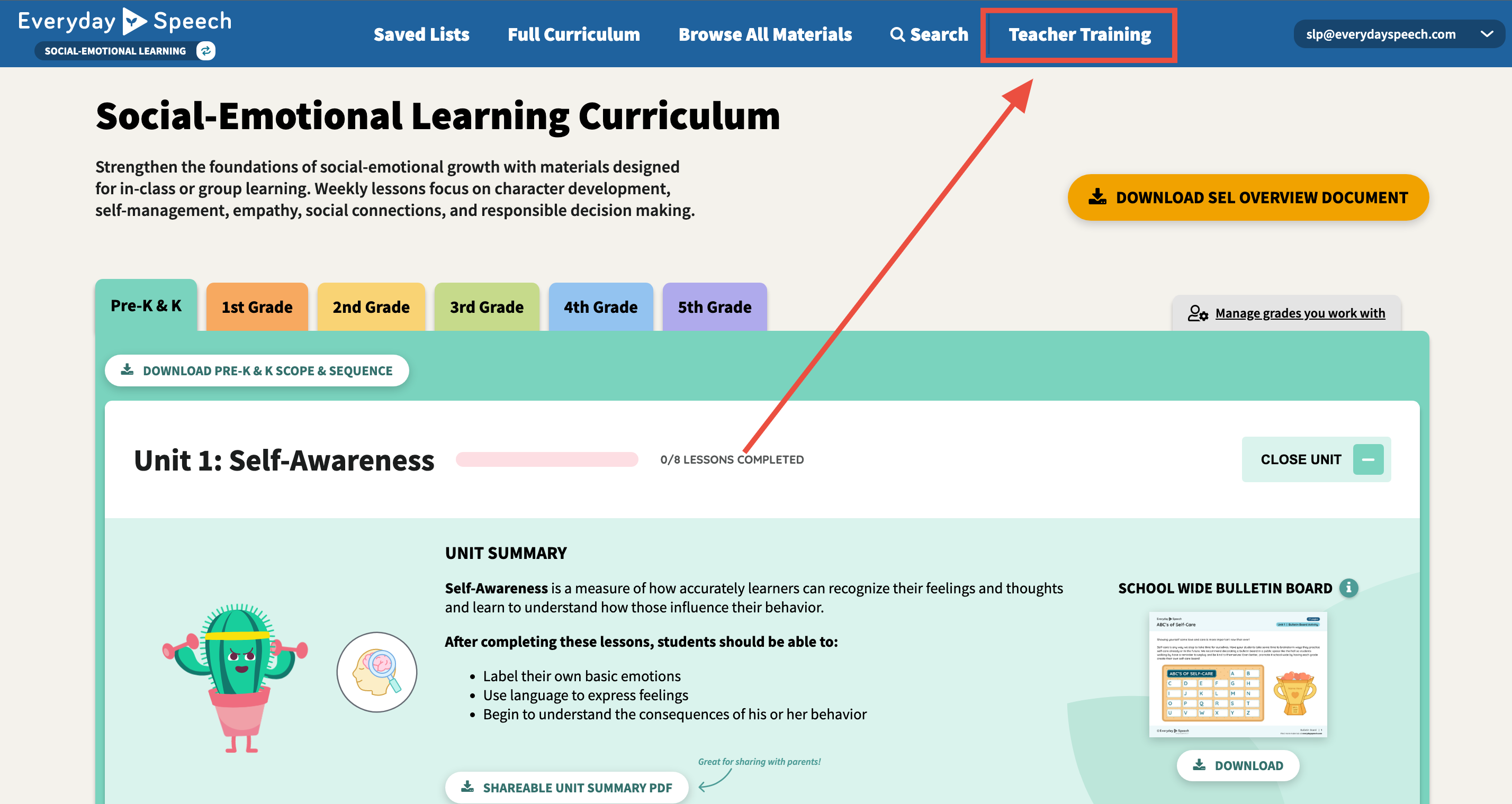 ---
The written training pages are included in every Lesson. Simply click into a Lesson to view the Teaching Tools: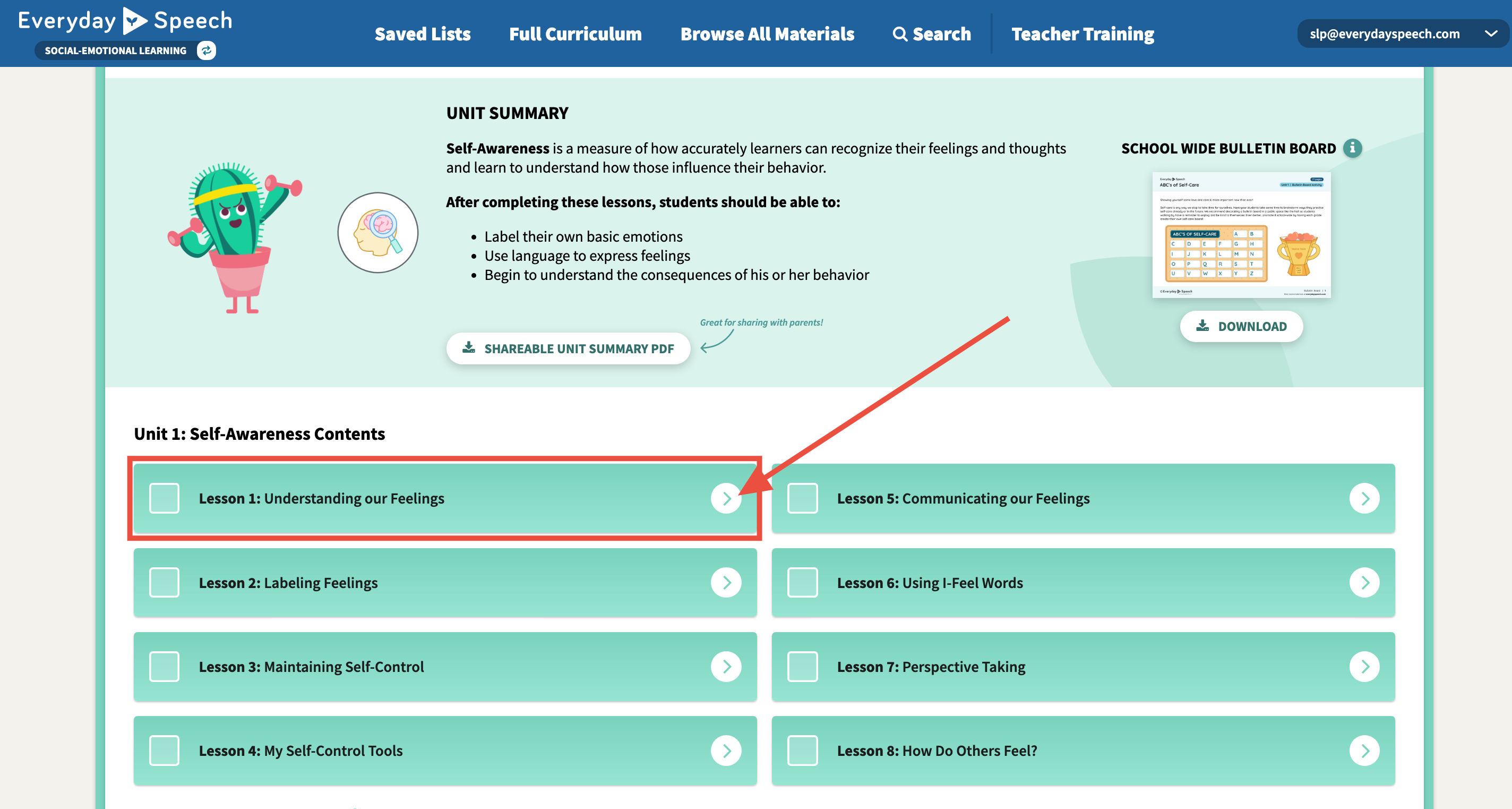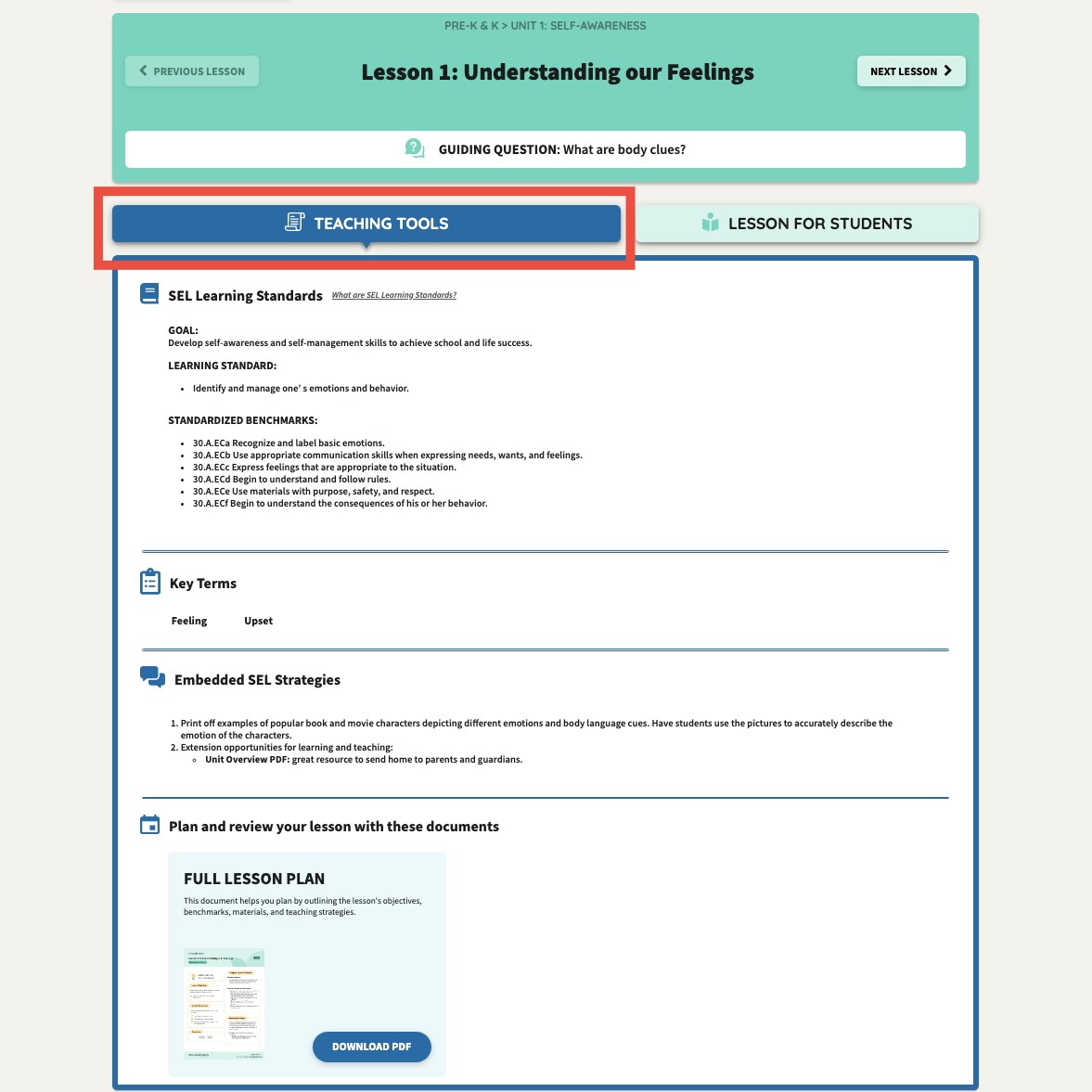 ---
What do the training materials cover?
Our Teacher Training videos provide an overview of the 5 competencies for effective social-emotional learning outlined by the Collaborative for Academic, Social, and Emotional Learning (CASEL). Everyday Speech Lesson Units align with the 5 competencies, or skills, that CASEL outline as required for children to strengthen their SEL knowledge.
In each video, educators are provided with an explanation of the competency, an overview of the Unit, and several tips for successful teaching and implementation.
Our Teaching Tools are written training materials that can be found within each Lesson. They include:
SEL Learning Standards
Key terms specific to each lesson
Embedded SEL Strategies
A one-page lesson plan
A skill review PDF
To learn more about our Teaching Tools, please see this article.
---
How much time will the training take?
We completely understand that educators have very full days! This is why Everyday Speech has truly done it all for you - our training materials are quick, and still provide the information you need to effectively teach SEL.
---
The Teacher Training videos are only 3 minutes each. We'd recommend watching these as you begin a new Unit. For example, if you are starting the Self-Awareness Unit, watch our corresponding Self-Awareness Teacher Training video!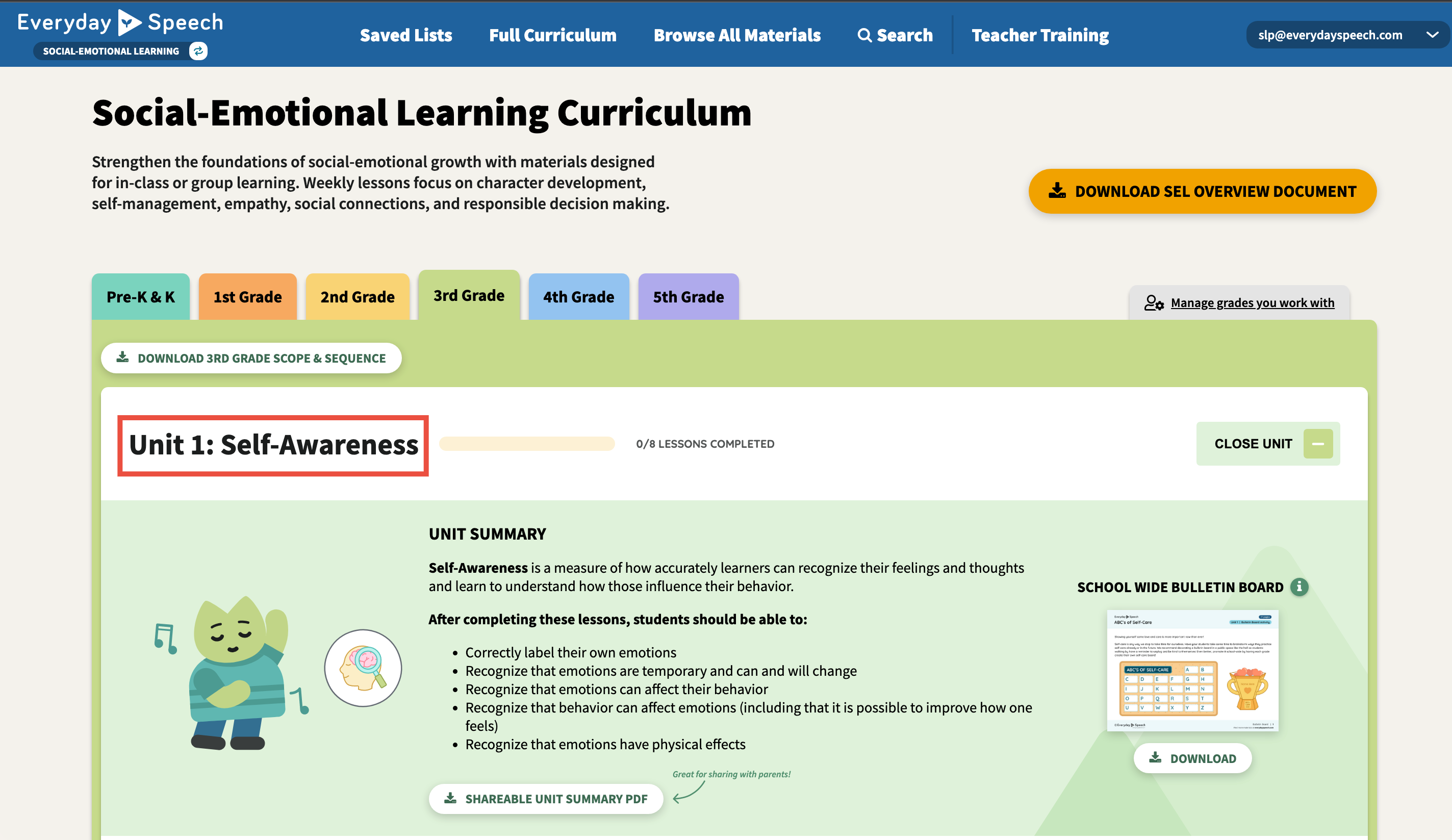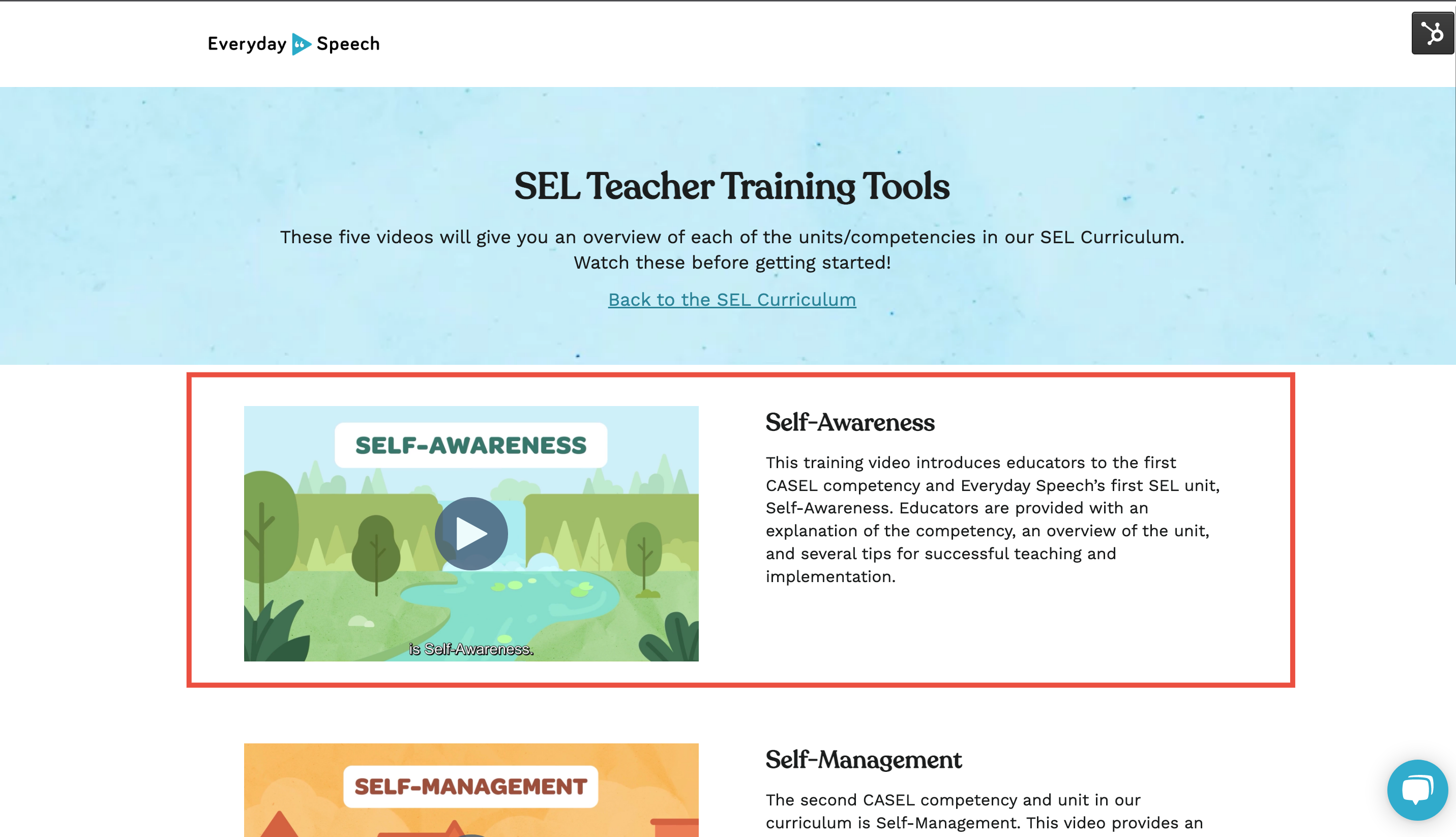 ---
You can spend anywhere from 5-15 minutes reading through the Teaching Tools section. You may choose to print out the Lesson Plan if you like creating an SEL lesson binder or need to share them with admins or parents.
A great time to review this info is during any planning or prep periods, or if you have a quick moment before teaching the lesson.
---
Materials for students
Our materials are fun, engaging, and age-appropriate. All you have to do is press play!
---
What kinds of materials can I expect to see?
Videos - our videos are based on the well-researched tenants of video modeling. We use videos to explain the concepts being introduced. We use a combination of animations and live action to ensure our videos are engaging.
Activities - these are worksheets that act as supplements to our videos. They provide the opportunity to practice SEL skills.
Games - a favorite with students! Our games can be used to review and expand on SEL skills in a fun, engaging way.
Everyday Speech World (EDS World) - EDS World is where live-action videos meet a video game environment. Students play themselves in a virtual world where they must choose the best and worst responses in a variety of conversations.
Prompts - prompts encourage students to discuss, review, and reflect on the SEL skills and concepts taught in the Lesson.
Pre- and Post-Assessments - there is a pre-and post-assessment PDF in each Unit for grades 1-12:

We'd recommend taking 5 minutes at the beginning of the Unit to conduct the Pre-Assessment, and 5 minutes at the end of the Unit to conduct the Post-Assessment. However, the pre-and post-assessments are optional and are not included in our Pre-K/K curriculum.
---
How are the materials organized?
With the exception of our pre-and post-assessments, our materials live within our Lessons. Lessons are housed within Units. Please see below:
Units (the 5 CASEL competencies):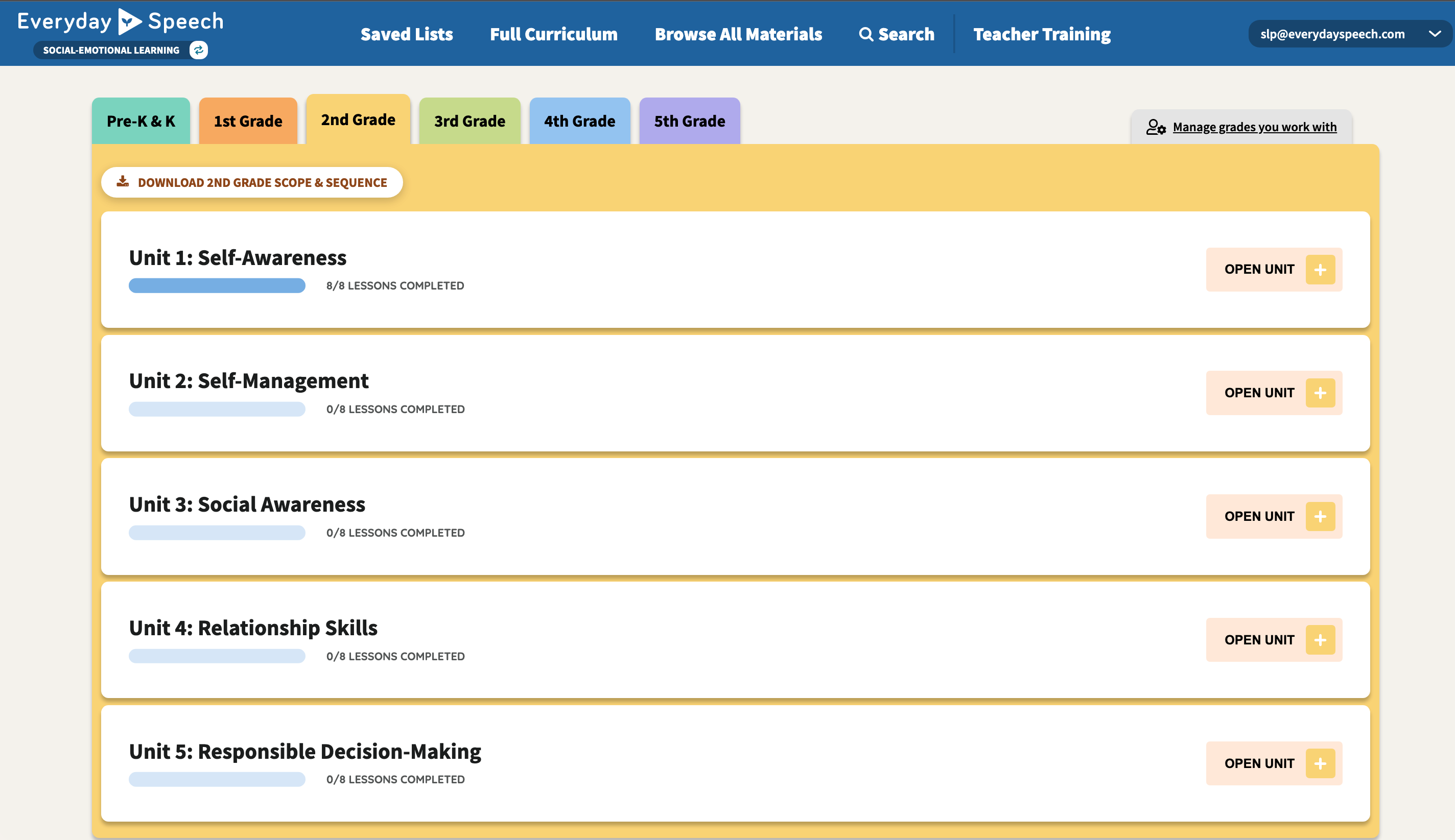 Lessons are located within the Unit:
Materials are located within a Lesson: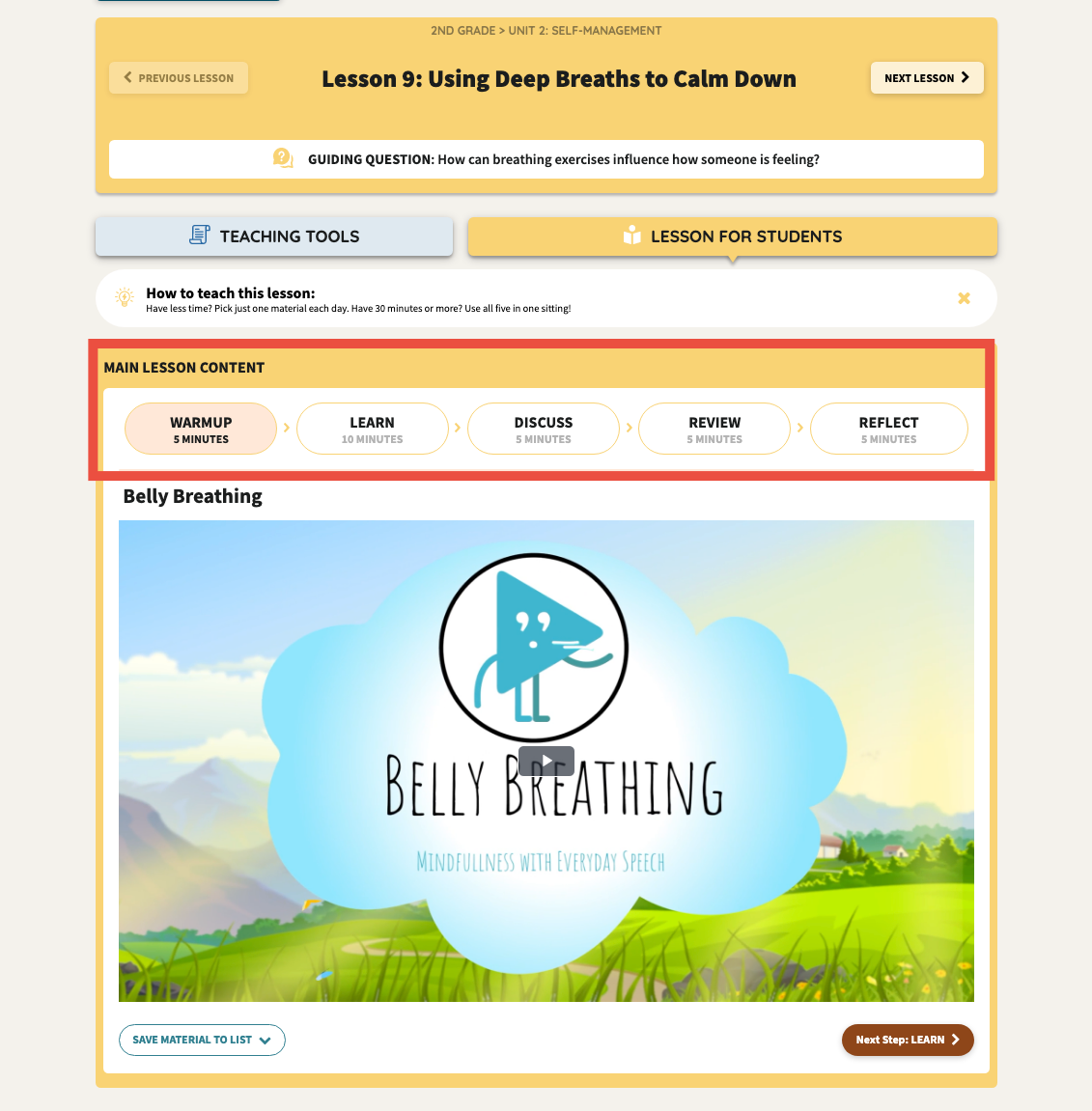 ---
The materials within each Lesson can include:
Warmup - this is typically a mindfulness activity, such as yoga or a breathing exercise, to ground your class and get them ready for SEL!
Learn - a piece of material that introduces the SEL skill being taught in the Lesson.
Discuss - a prompt to get your class talking about the SEL skill they just learned.
Review - a prompt where students will review the SEL skill on their own.
Reflect - a prompt to finish off the Lesson, where students are encouraged to apply the SEL skill to their own lives.
---
What is the recommended way to use the curriculum?
We designed our SEL curriculum to be easy-to-use! We would recommend starting on Unit 1 Lesson 1, and going chronologically from there!
Each Lesson is intended to be a week's worth of SEL material. You can do all of the materials in one 30-minute session, or spread them throughout the week if that works better for your schedule! We have included time stamps on each piece of material, so you can easily plan your SEL time each week.
Once you finish all the materials in a Lesson, don't forget to mark the materials as 'Complete!'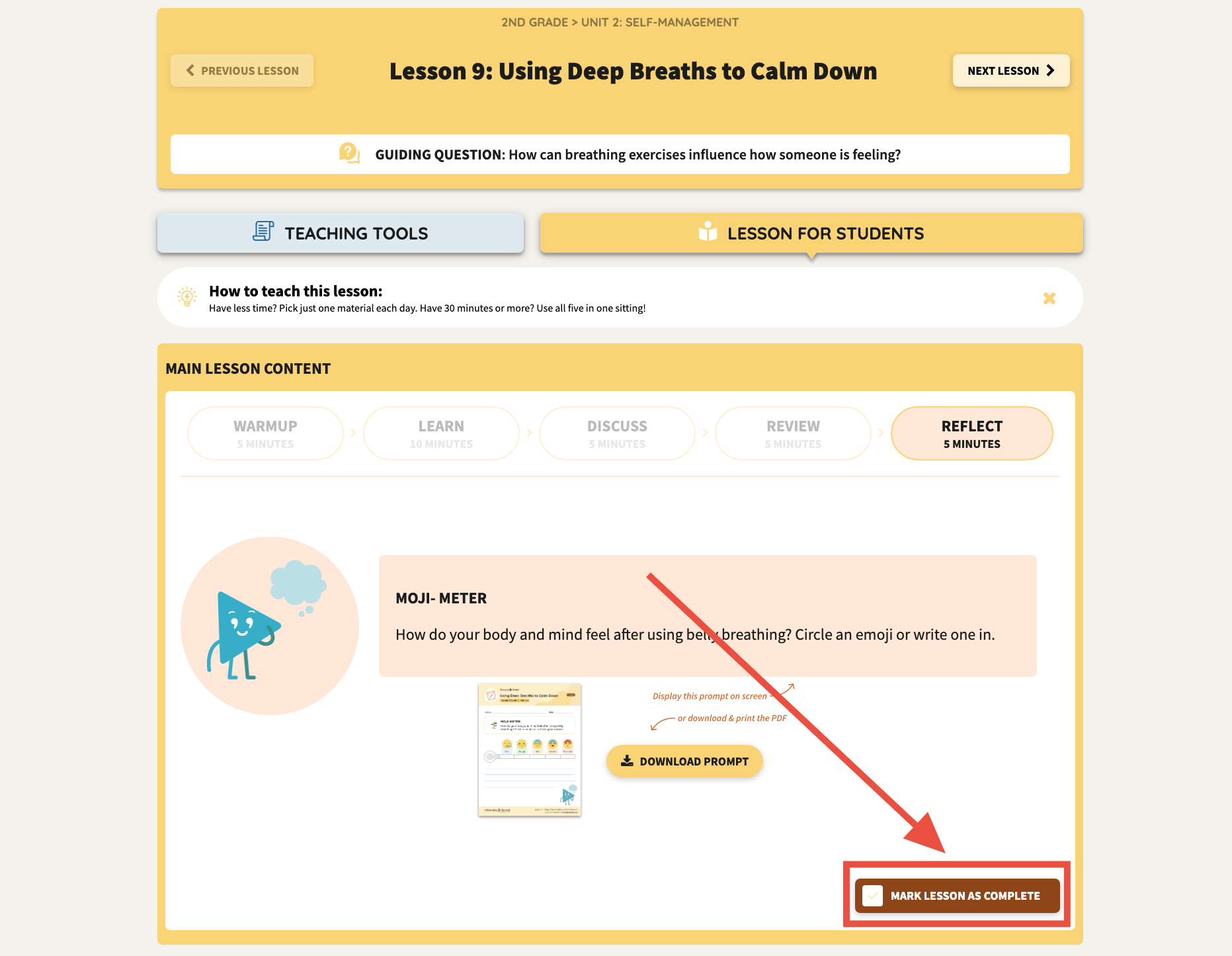 ---
SEL curriculum features
See these essential features and tips to enhance your SEL teaching experience!
---
Completion Badge
Once you complete all the Lessons in a Unit, your class will receive a Completion Badge! This badge can be printed to display in your classroom.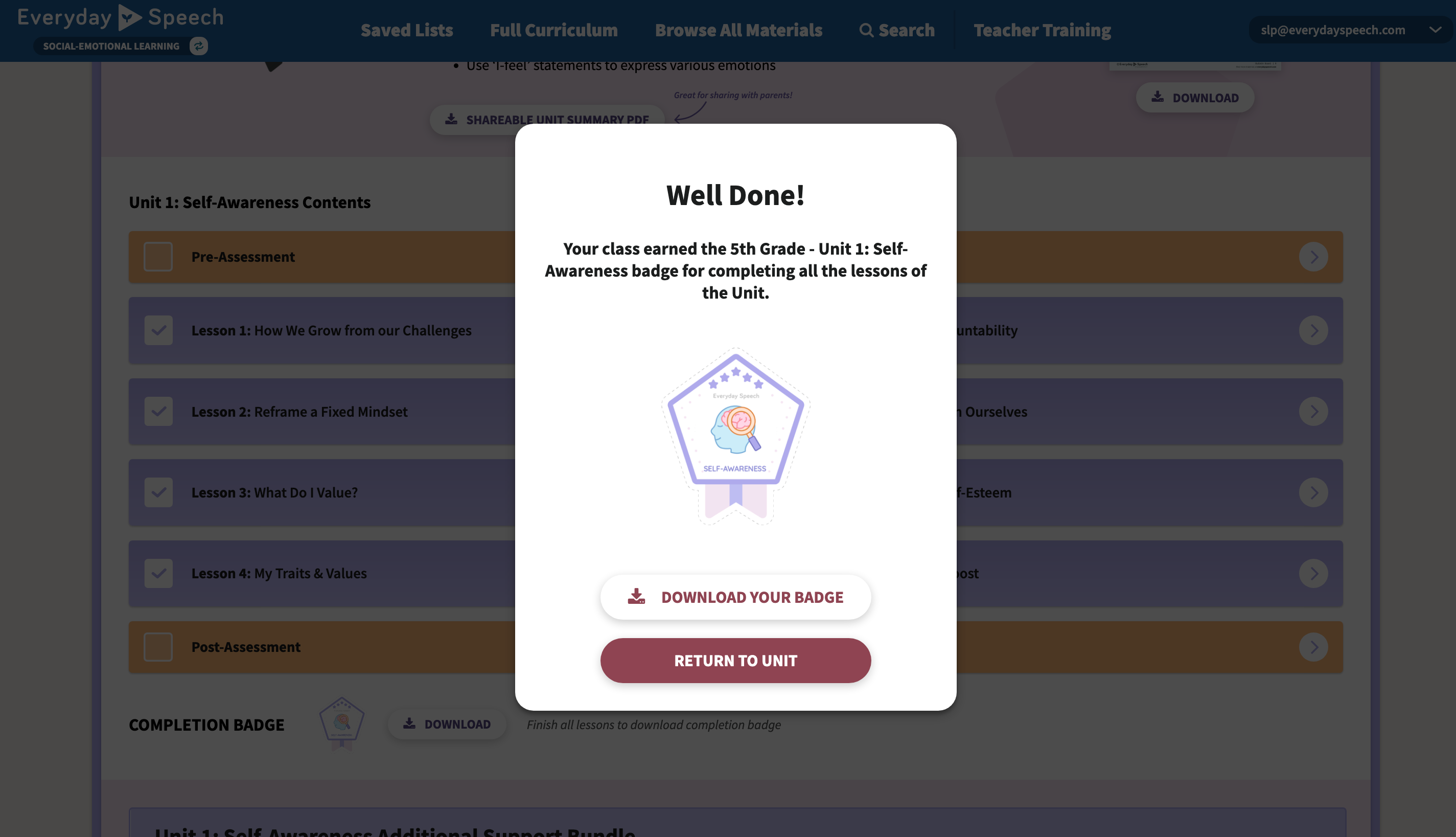 ---
Saved Lists
Saved Lists allow you to save materials in an easily accessible place for future use. You may want to create a Saved List for your classes' favorite materials, the most effective mindfulness activities for your class, or create lists to be used with small-group intervention.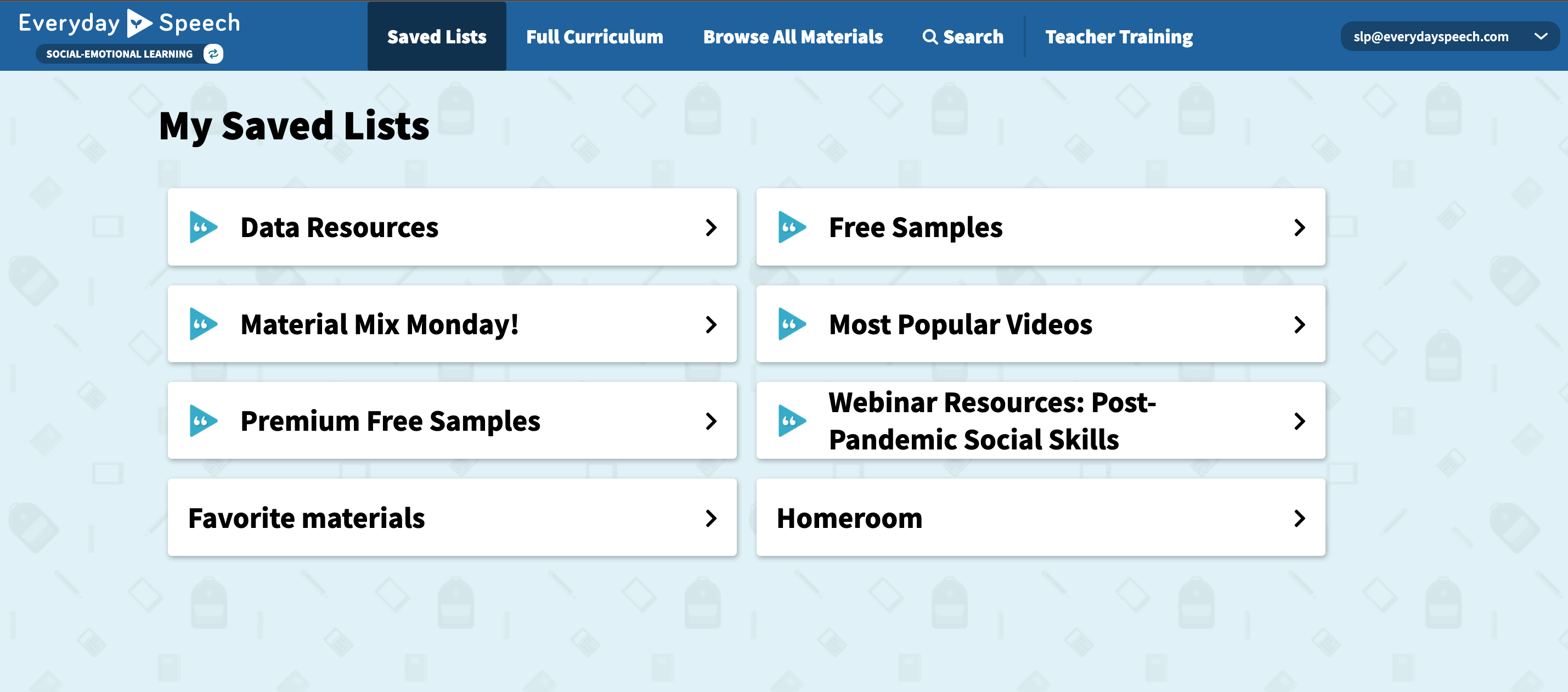 To learn how to create a Saved List, please see this article.
---
Browse All Materials
Using the Browse All Materials feature allows you to view all of the materials by type. For example, you may want to browse our games to see what we have to offer.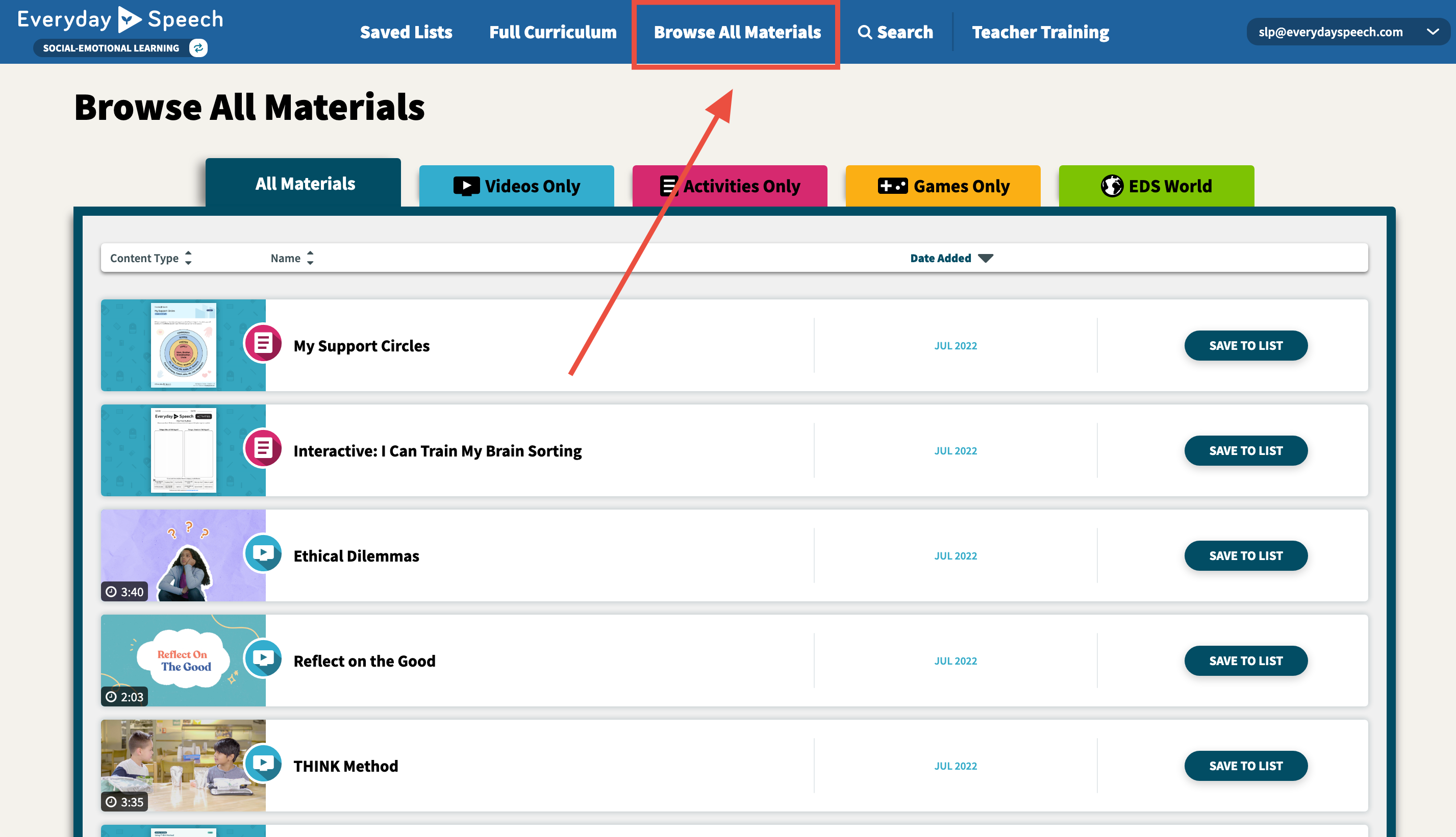 We recommend only using the Browse All Materials feature after you have an in-depth understanding of our lessons.
---
Search bar
You may need to break out of the curriculum mold and search for material that covers a very specific topic. Our Search feature can assist you with that!
Simply type one or two keywords into the Search bar to filter materials:


---
Additional Support Bundles
Our Additional Support Bundles are specifically designed to support learners who may need a deeper dive or further instruction (Tiers 2 and 3 support).
See this article to learn how to use our Additional Support Bundles!
---
Effective SEL resources
See this article to learn tips and tricks to effectively teach SEL with Everyday Speech!
---
Wrapping up
We hope you enjoyed this walkthrough of our SEL curriculum!
If you need more assistance with our SEL curriculum, our Support team is here to help!
Please reach out to us at support@everydayspeech.com with any questions.
Happy teaching!