Learn how to use our additional curriculum materials to level up your SEL lesson effortlessly!
In addition to our Lessons for Students, our SEL Curriculum includes:
A scope & sequence for each grade level
School-wide bulletin boards
Sharable unit summary
Teaching tools: learning standards, key terms, embedded strategies, full lesson plans, & skill reviews!
To learn how to navigate and use our additional curriculum materials, try the interactive tutorial or follow the steps below!
Here's an interactive tutorial
---
To access our additional curriculum materials, click Full Curriculum. This is also the page you see when you log in to your account.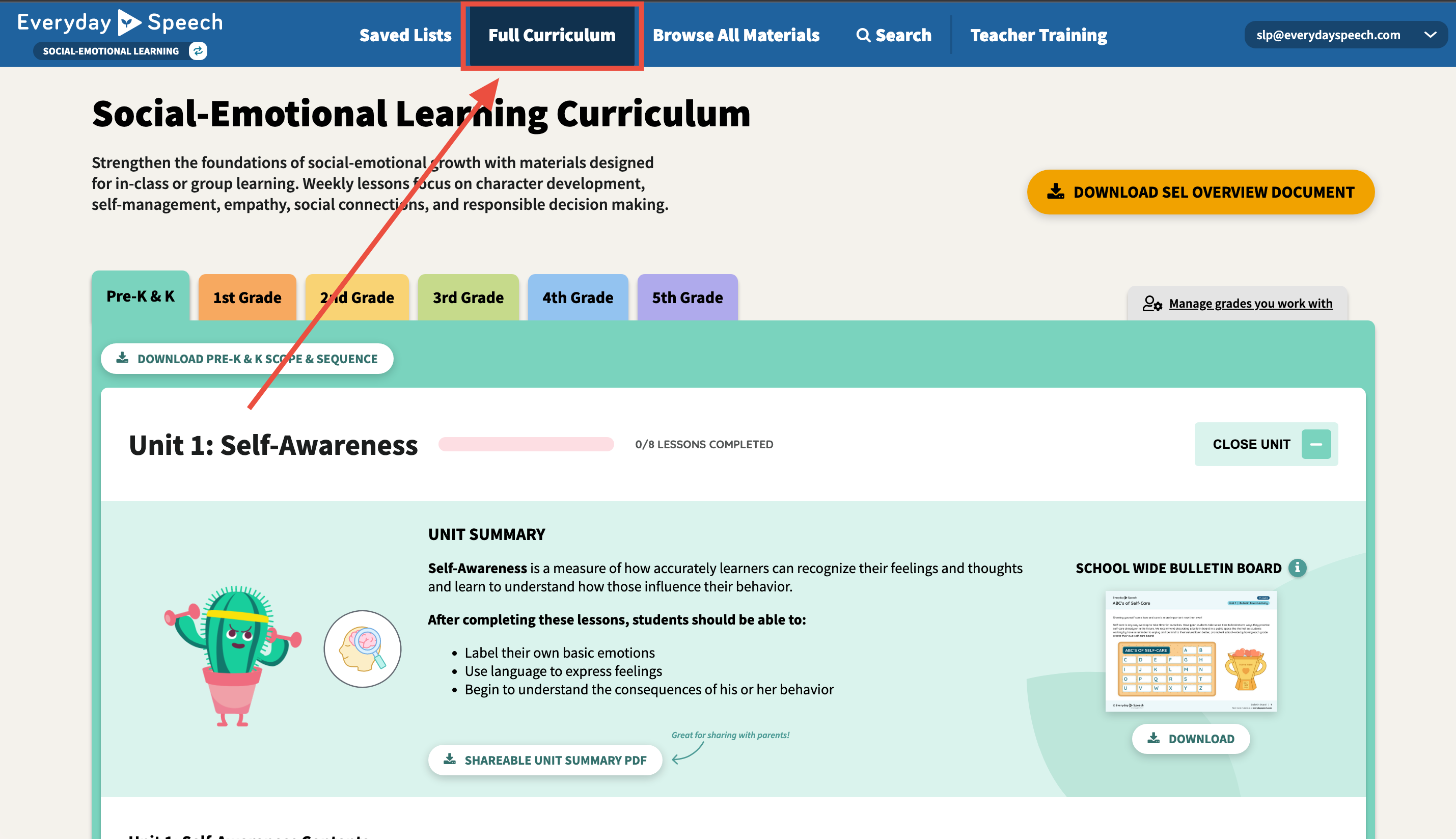 ---
Choose your grade-level.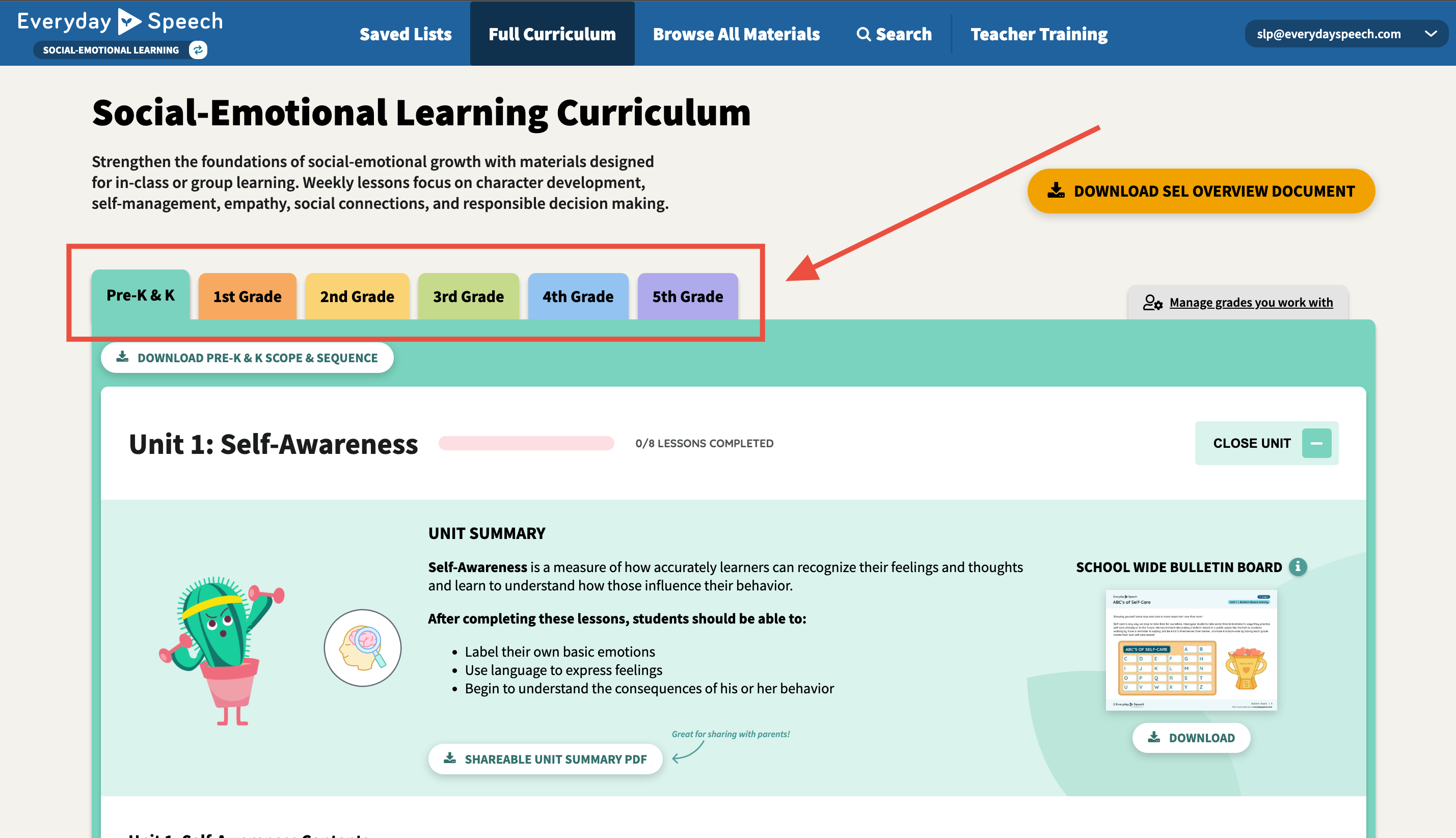 To learn how to toggle your grade level tabs, please see this article.
---
Resources in the Unit Header
The Unit Header appears when you click into any Unit. These include a fun character animation, a Unit Summary, and many other helpful features!

---

It includes a downloadable scope & sequence for your grade-level: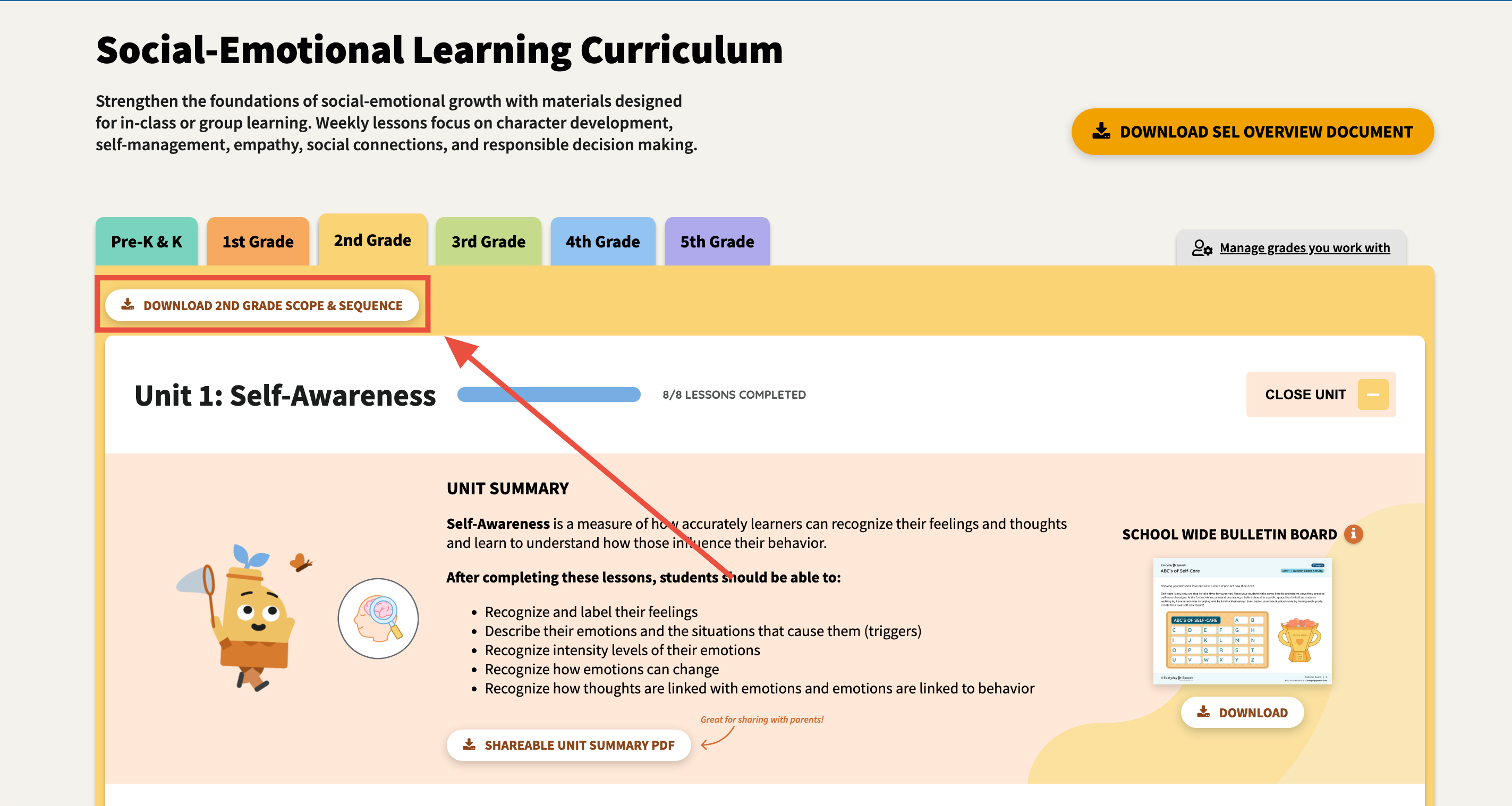 This is a great resource to access a zoomed-out view of the competencies, lessons, and descriptions for the entire year! Our scope and sequence can also be shared with parents as another way to strengthen the connection between home & school.
---

The Unit Header also includes a sharable unit summary PDF: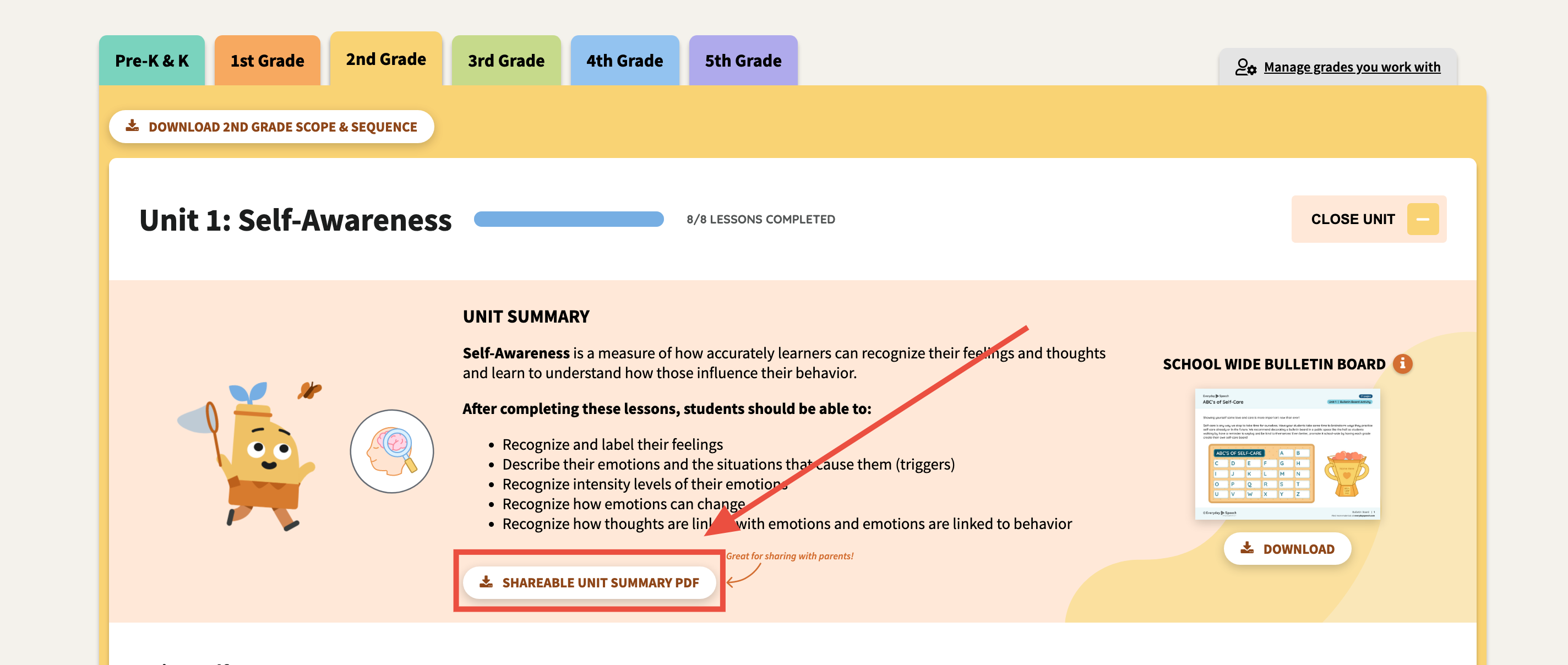 This
sharable unit summary
is great as a bridge between home and school. You can e-mail or print it for families, enabling them to expand the conversation at home and use common language to support generalization of skills!
---

Lastly, we offer a downloadable school wide bulletin board for each Unit:

Use our interactive bulletin boards to enhance unity around SEL throughout your building! Bulletin boards are the same PreK-5th grade, so students gain the understanding that these skills are meaningful to all learners.
---
Teaching Tools - prep for success!
Choose a lesson to access more teaching tools specific to that lesson: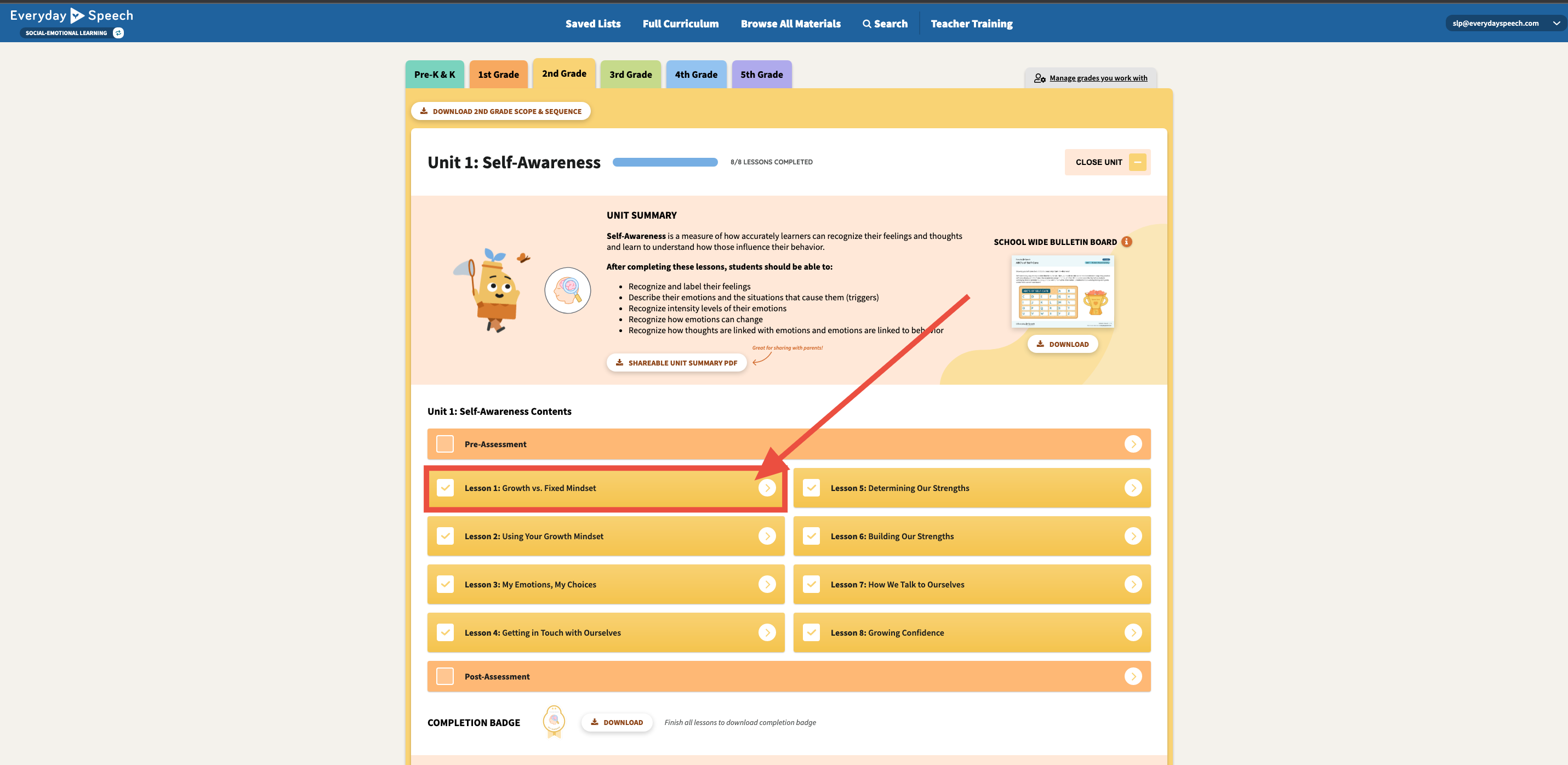 ---
Within the Teaching Tools
Our Teaching Tools begin with
SEL Learning Standards
, broken down into goals, learning standards, and standardized benchmarks: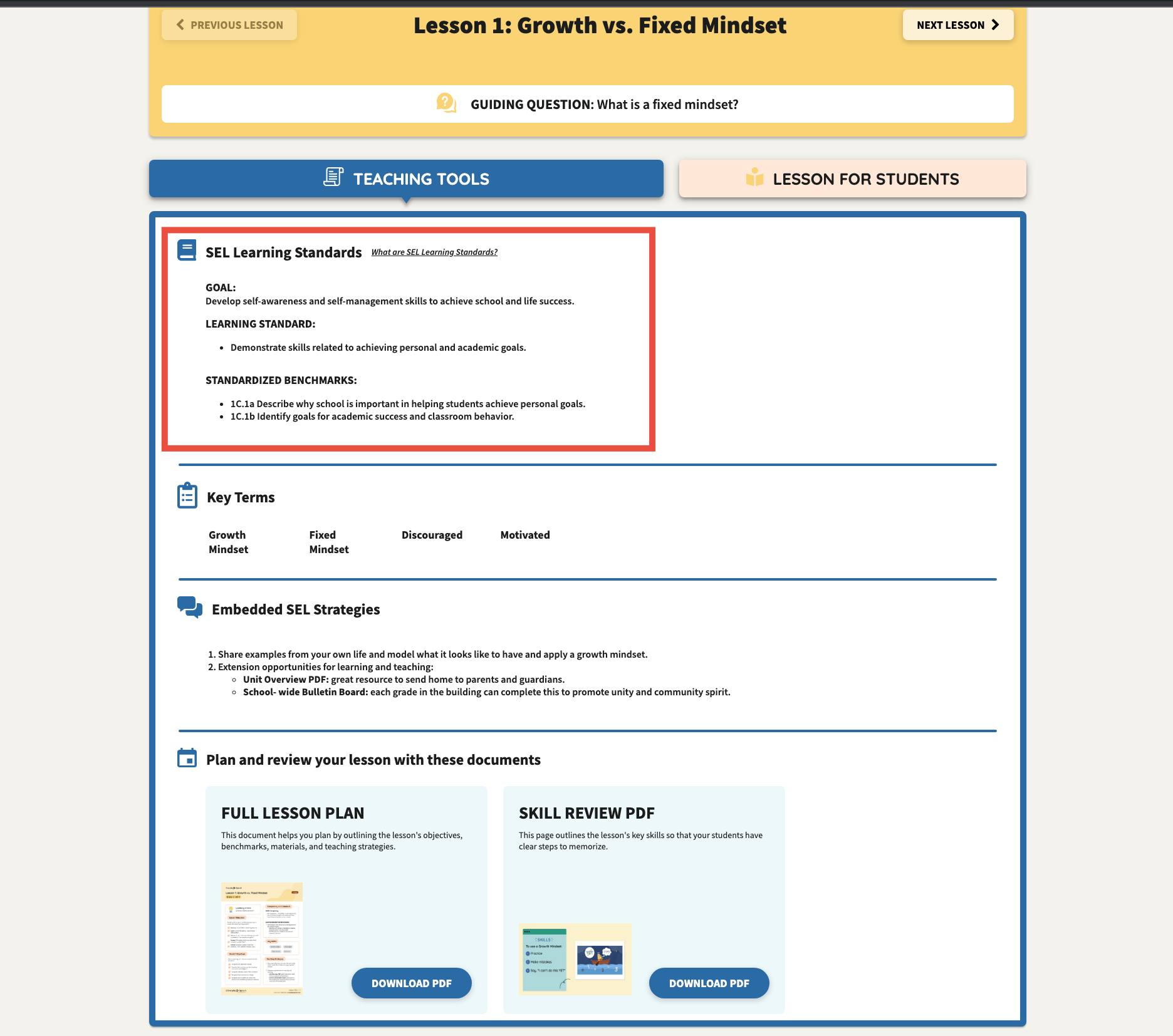 ---
The Teaching Tools continue with Key Terms specific to each lesson: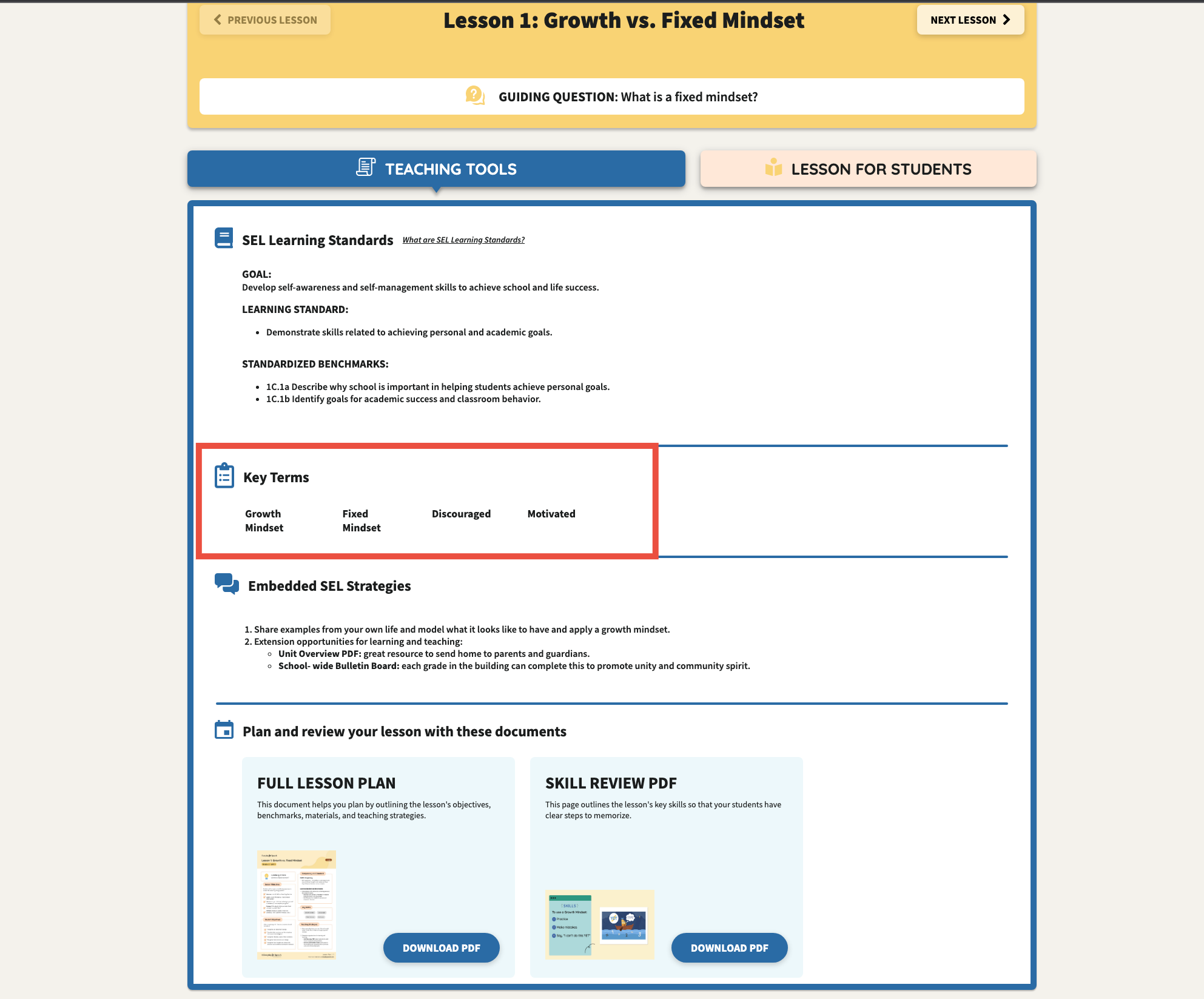 Key Terms
will be introduced and repeated throughout each lesson. You can also consider displaying them in the classroom throughout the week to generalize key terms across other subject areas.
---
Next are Embedded SEL Strategies, which are great to incorporate in other subject areas, and more un-structured settings such as lunch and recess, to support the generalization of social-emotional skills across all aspects of the day.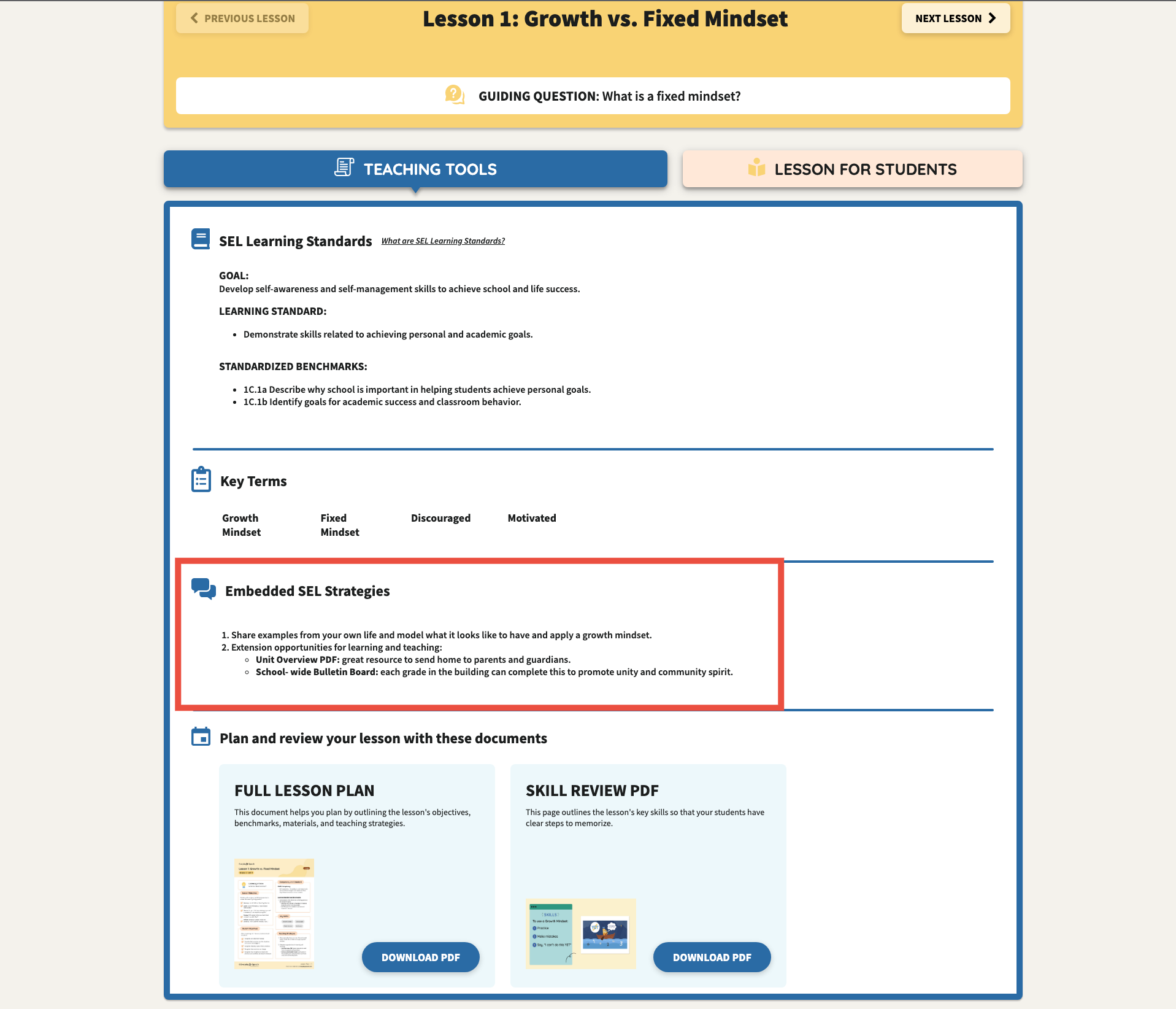 ---
We are also proud to provide a one-page lesson plan: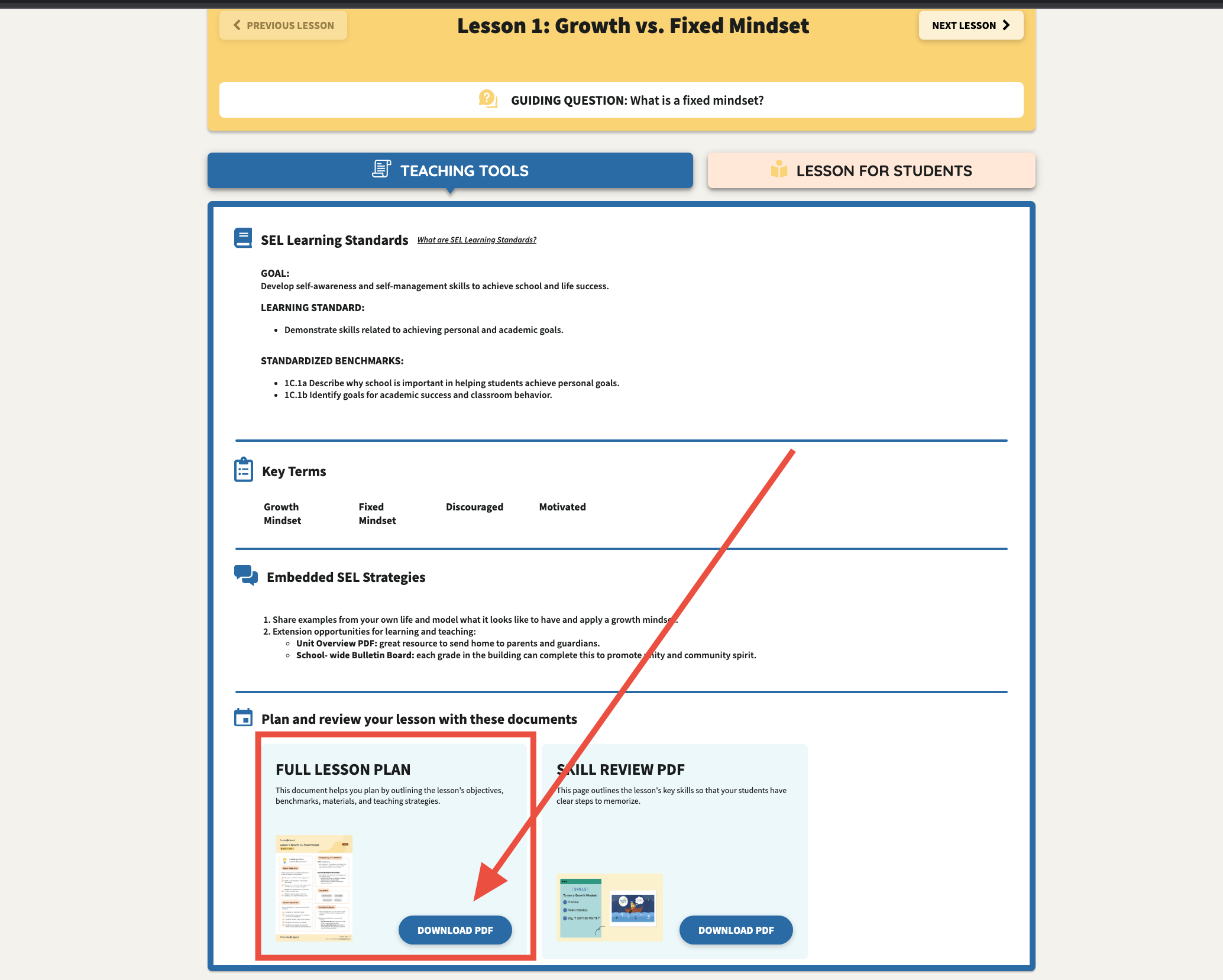 Gain your time back with this one-pager lesson plan! Easy to download, print, and share with a substitute teacher or principal. Log your lesson plans, and use them to document and evaluate effectiveness of student objectives.
---
Lastly, we provide a skill-review PDF which includes explicit, clear steps for mastering each skill! Post in your classroom for easy referencing throughout the week.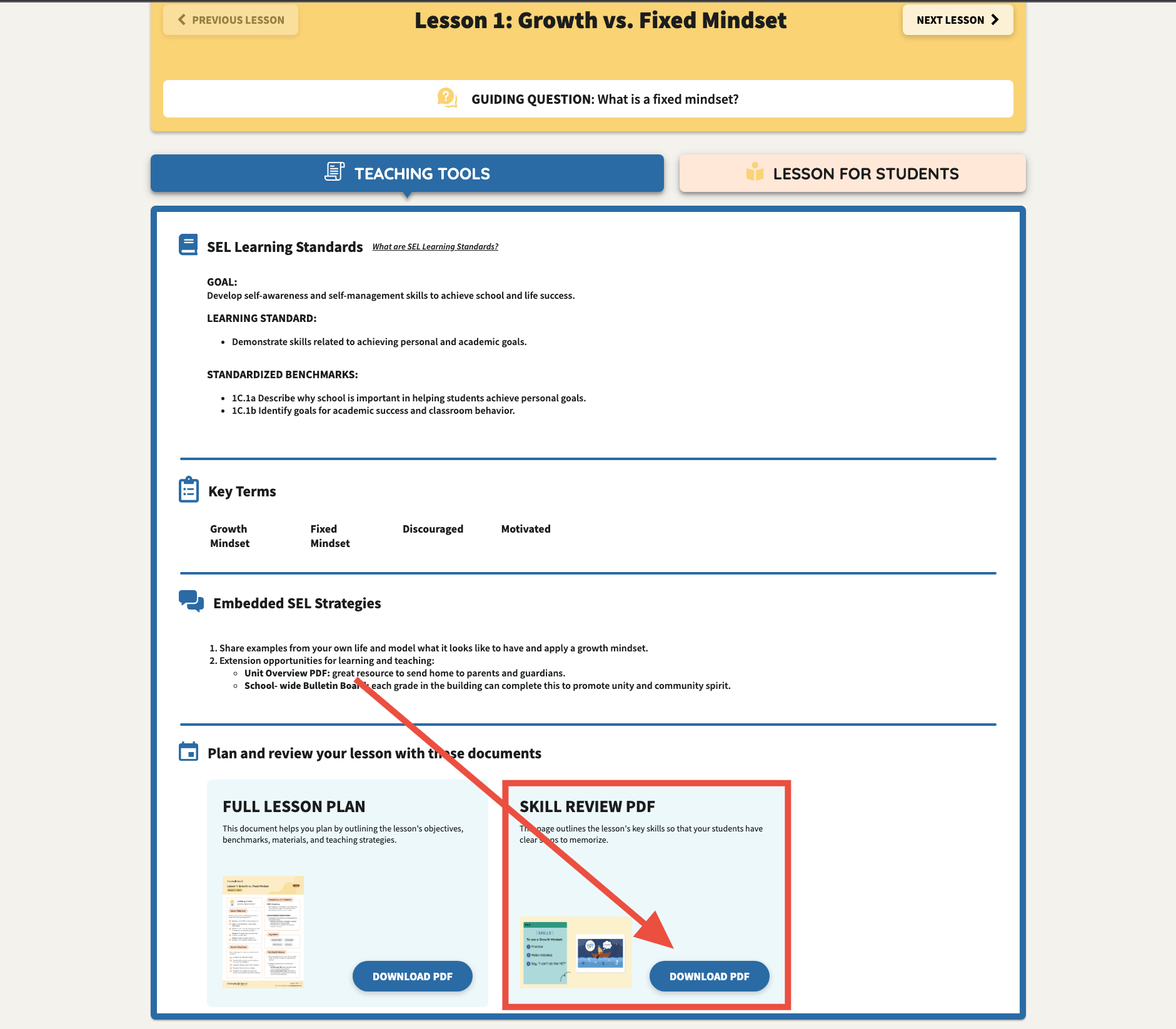 ---
Congratulations! You're now ready to use these tools to get back your planning time and level up your SEL lessons!