Welcome to the Everyday Speech family! Ready to get started?
We're going to be walking you through the basics of our SEL curriculum.
Not sure if you are using the SCC or SEL curriculum? Please see our article about the two curricula here!
---
TABLE OF CONTENTS
---
Logging in
Once you set your password, you'll be directed to slp.everydayspeech.com , our secure URL for the Social Learning Platform. We suggest you bookmark this link so you always have it handy.
If you ever forget this link, you can also log in by going to everydayspeech.com and clicking log in in the upper right-hand corner.
---
Overview
Our SEL curriculum follows all 5 social and emotional competencies from CASEL. From day one, you are empowered with the tools needed to nurture foundational SEL skills in
an engaging way with full lesson plans including videos, digital worksheets, and role-playing activities. We have no-prep materials for Tier 1 support.
With 40 weeks of lessons, our SEL curriculum will take you through an entire school year. Our curriculum is in chronological order, you don't need to prep a thing!
We designed our curriculum to have one lesson per week, because we wanted all teachers to fit this essential learning into their day-to-day schedule.
Currently, the SEL curriculum has units for 3 age groups - Pre-K and K units, the early elementary units (Grades 1-3) and the late elementary units (Grades 4-5) - with more to come soon!
---
You can download a copy of our Scope & Sequence, which has an overview of all of our lessons and their lesson summaries.
---
Our Materials
We have 3 main types of teaching materials which are Videos, Games, and Activities.
Every video comes with a companion worksheet that provides a jumping- off point for further discussion and/or review.
Our hundreds of printable activities are extremely versatile – they range in complexity and length, whether you need an activity for an entire session or just the last 5 minutes.
You'll notice different types of activities within the platform:
One Page Worksheets: These are student-led worksheets that students can potentially fill out on their own. These worksheets can always be printed, and some of our worksheets can even be completed on the computer to save paper! These are called Interactive Worksheets, and you can access them by clicking on a worksheet, and then clicking Play on Screen.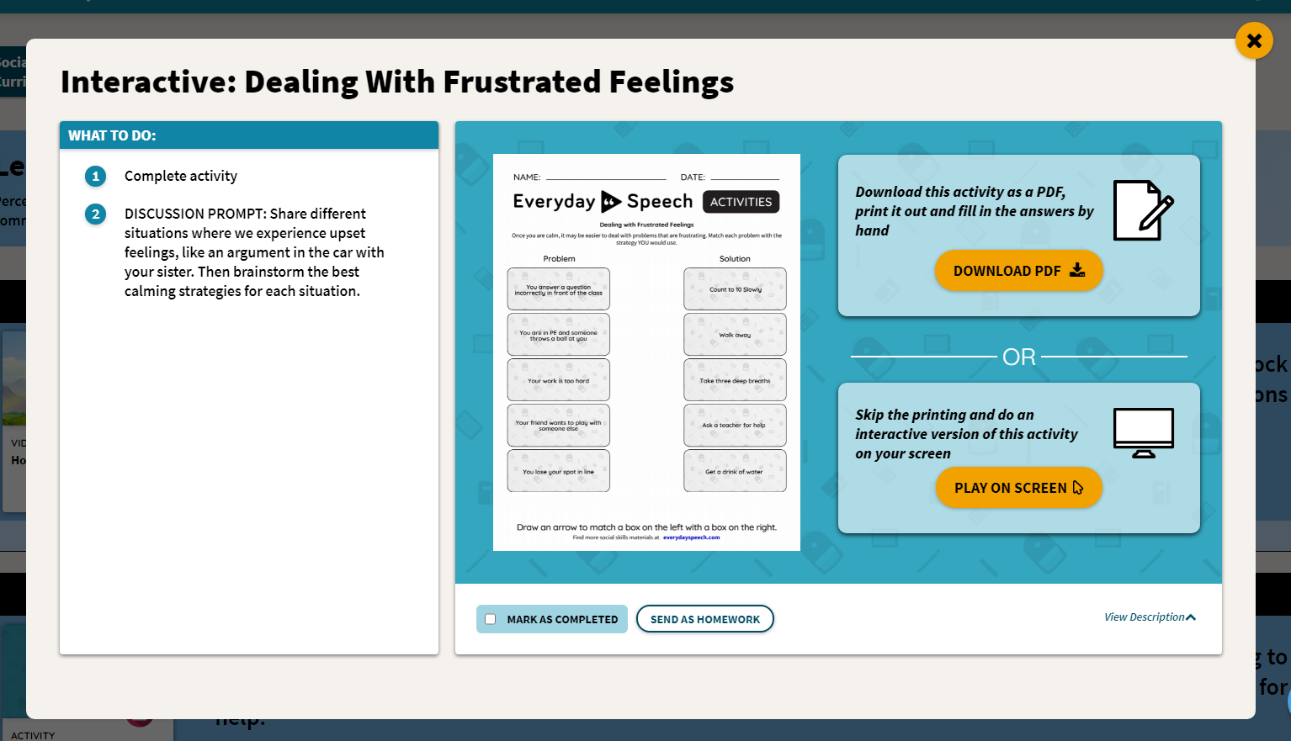 Quick Activities: These model activities you can run during your session, including role-plays and group discussions.
Premium Packets: If you're used to browsing the web for printable activities, these packets will be familiar to you. Able to support an entire session (or multiple sessions!), these packets introduce skills, provide activities like card games and board games, and include homework and review materials.
---
I have logged in to the SEL curriculum. Now what should I do?
Navigate to the tab that is most appropriate for the age group you're working with.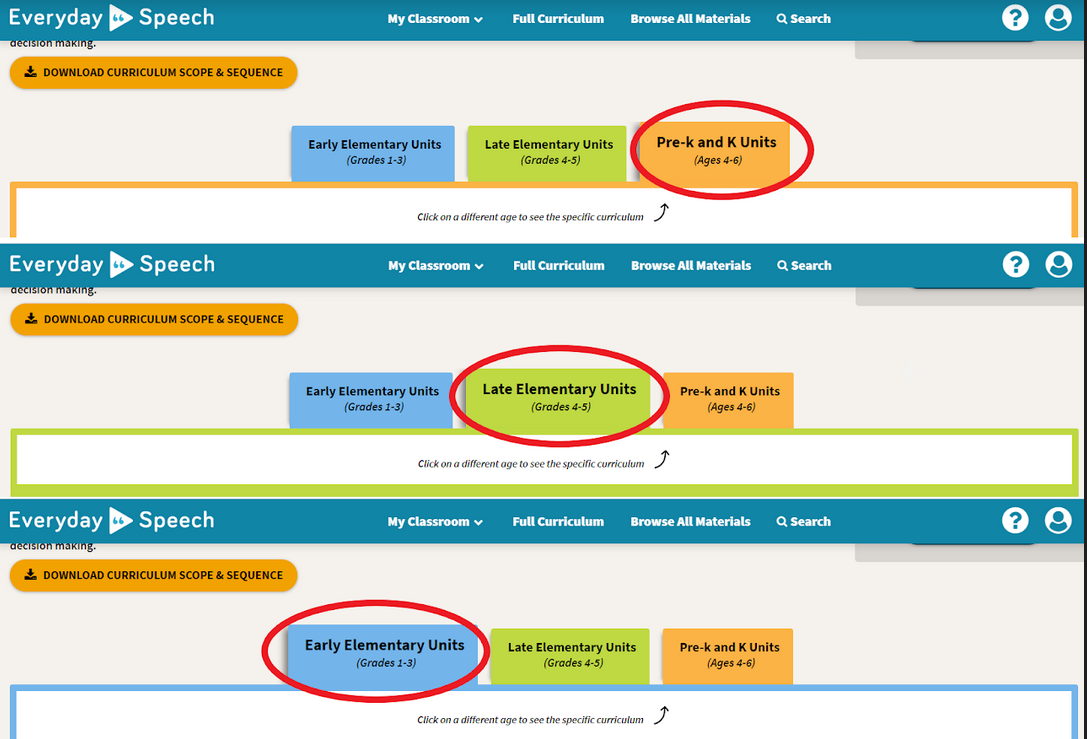 ---
Click on the View Materials button on any unit to see the materials for that week.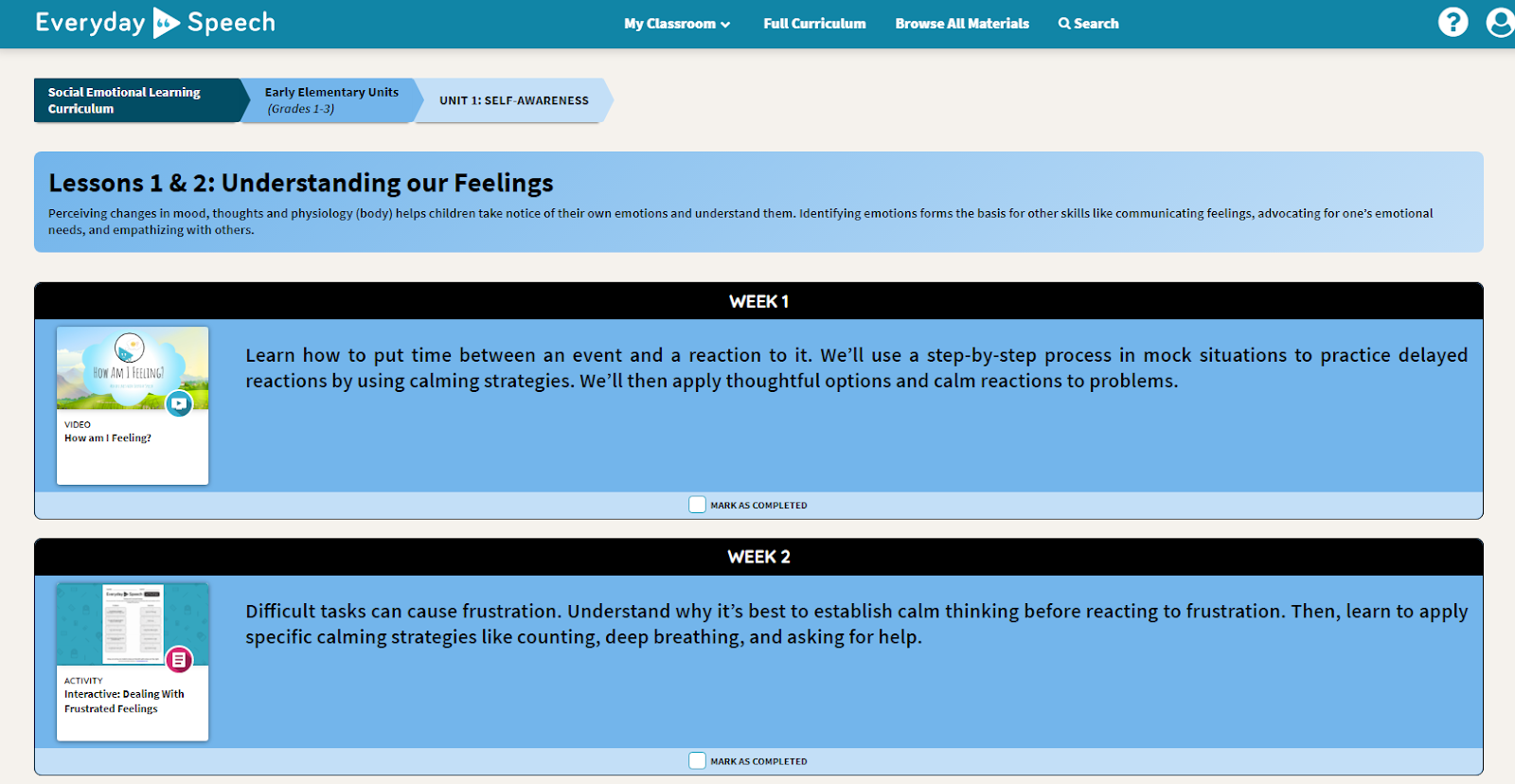 ---
Click on the material for the week on the left-hand side.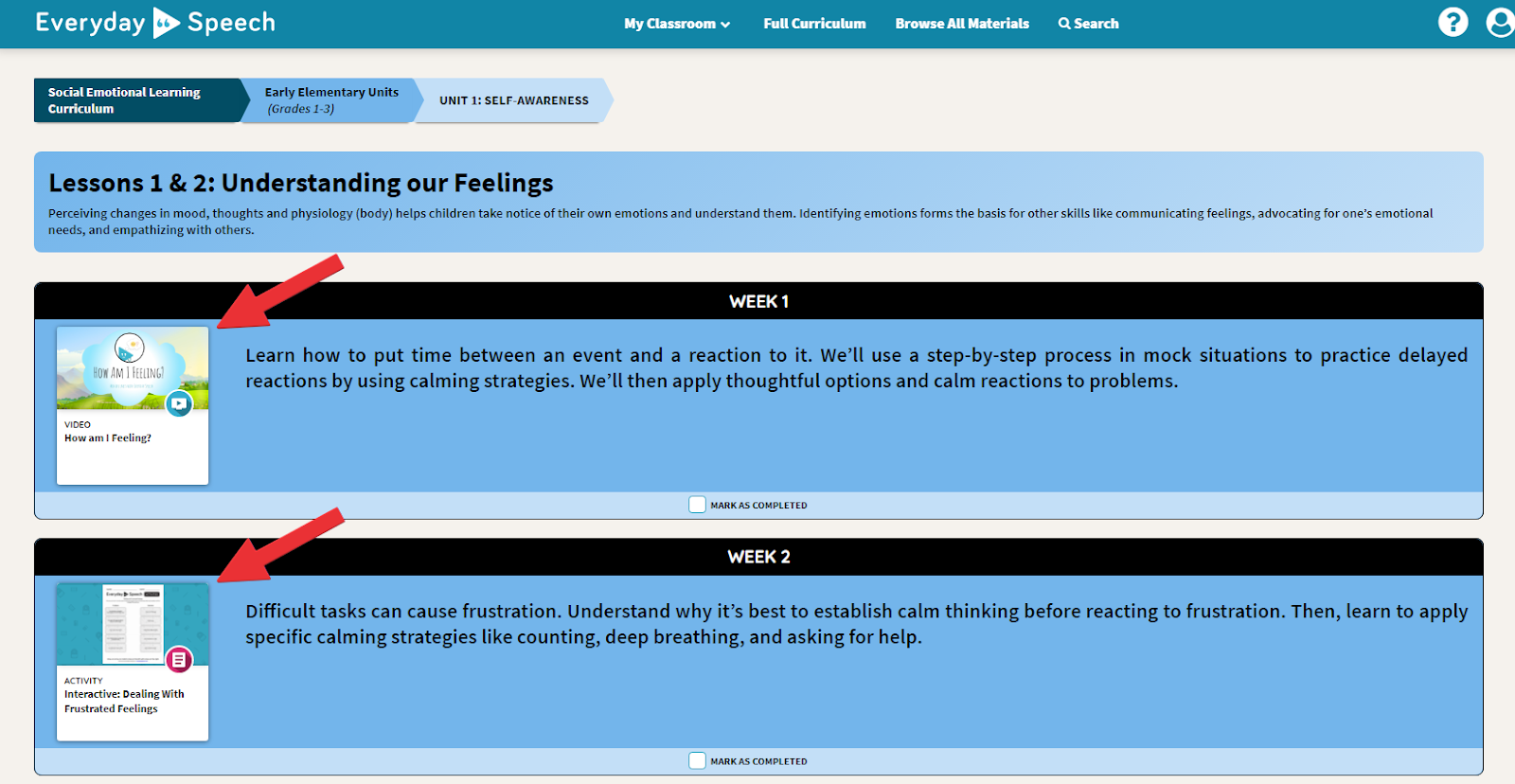 ---
A pop-up will appear with the material.
On the left side, you'll notice our What To Do section. In an effort to make our materials truly no-prep, we've listed everything you need right here. For our videos, you can download or view the companion worksheets here. Many of our printables come with short review videos you can watch if you want to remind your learners of the concept you're working on.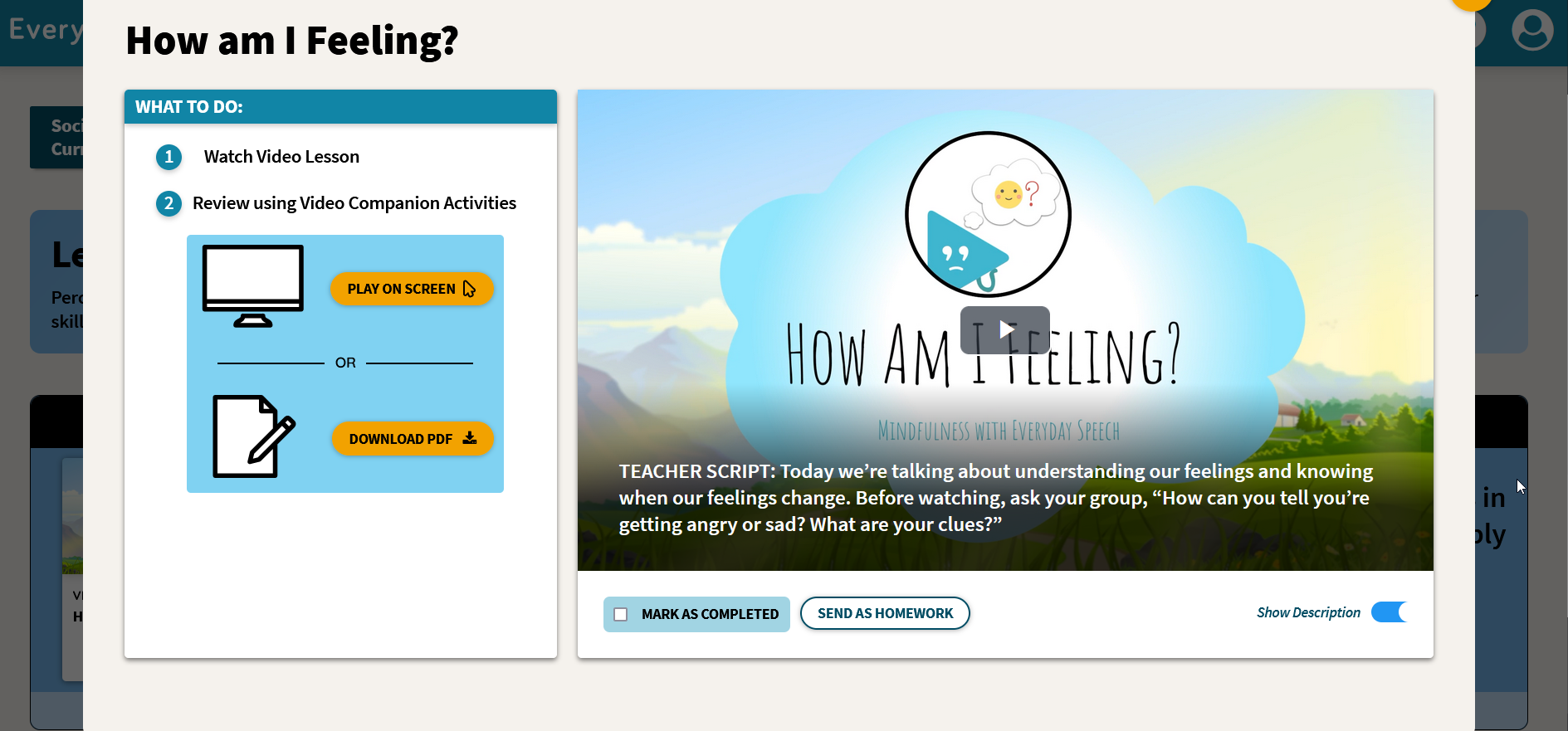 ---
Below the activity, you will see two buttons: one to mark the material as complete, and one to send homework to a student.
You can click the checkbox to mark the material as complete.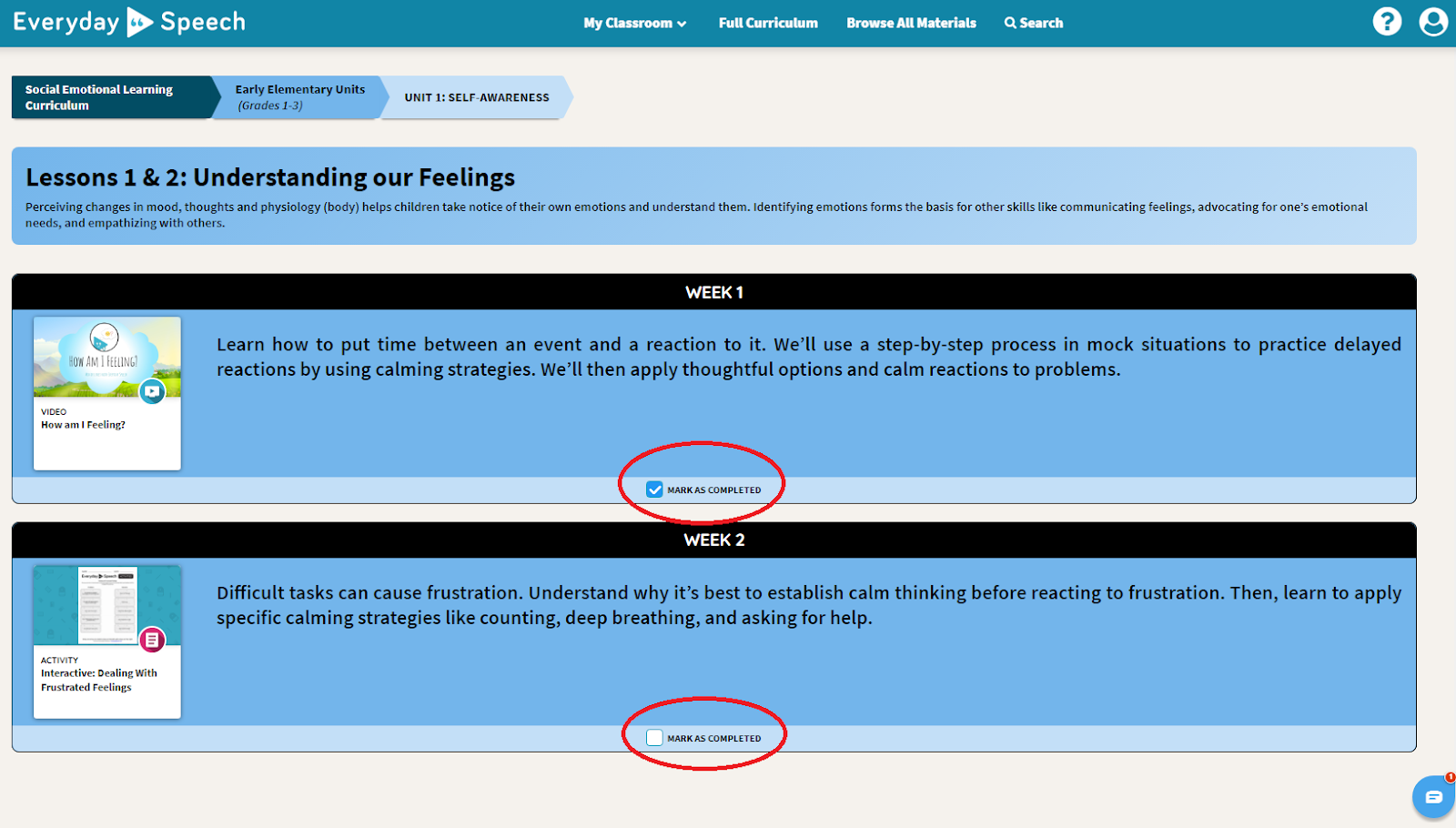 ---
You can also click on the material you want to view, and once you are finished, you can click Mark as Completed below the activity!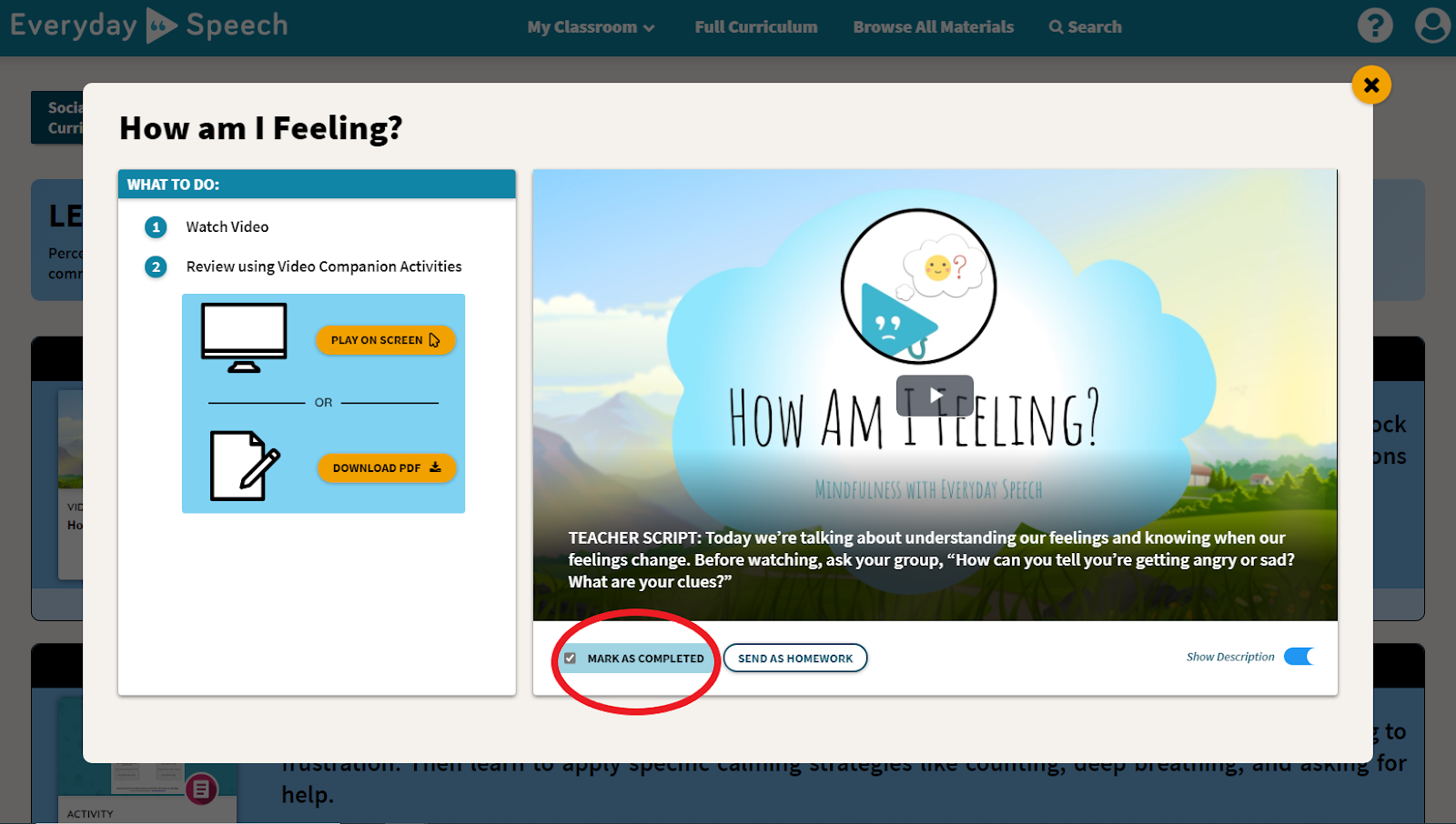 ---
Once the material is marked as complete, you will see the progress bar in your dashboard filled according to the corresponding week. This way, you can easily keep track of what you have worked on with your students!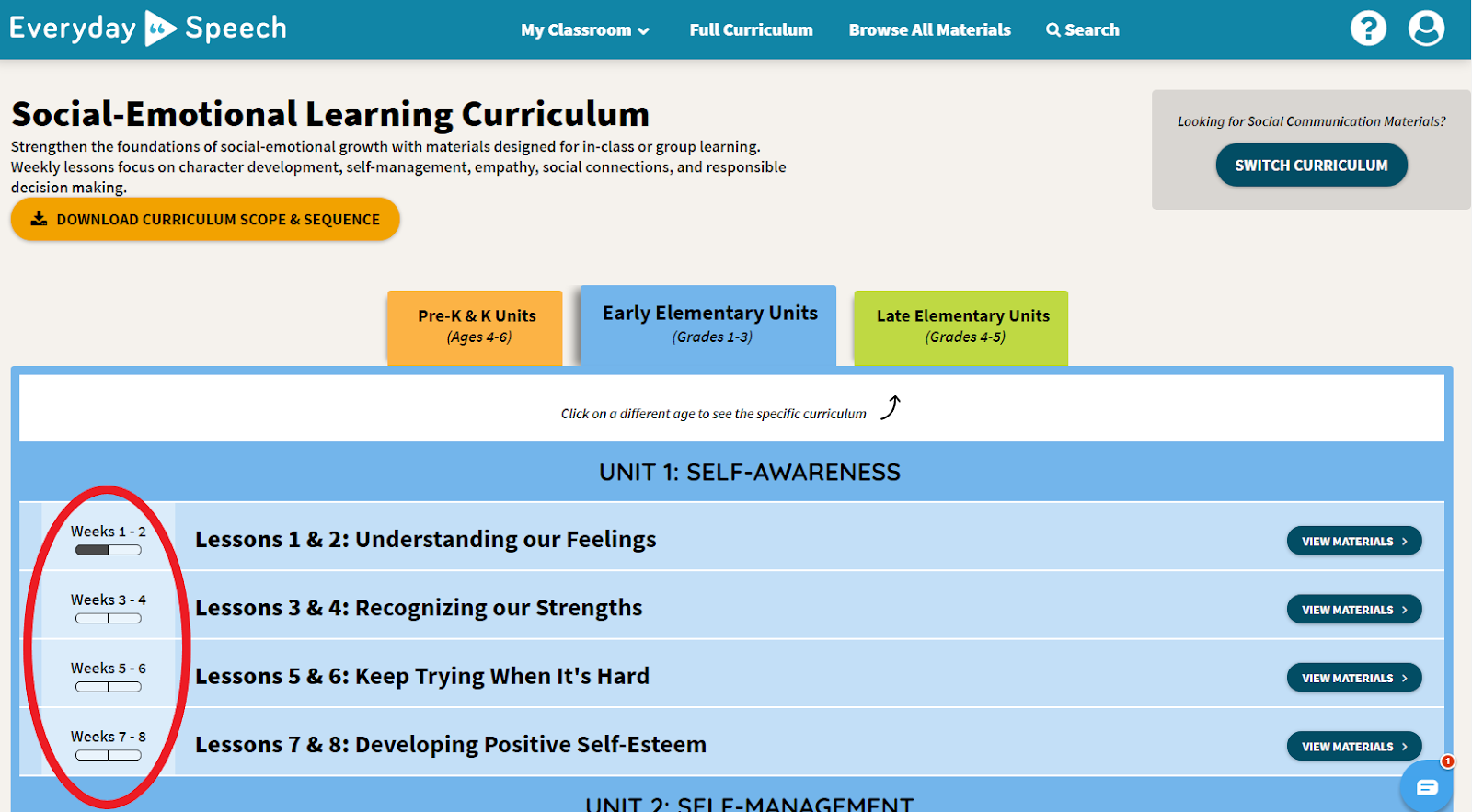 If you click Mark as Complete by accident, no worries! You can undo completion by clicking on the box again to un-mark it.
---
Sending Homework
Maybe you watched a video in class, but there is just not enough time to do the companion worksheet. Or, you would like to send some materials home for students and families to review. Our send as homework feature makes this possible! To share a piece of material, simply click the button labeled Send as Homework underneath the material.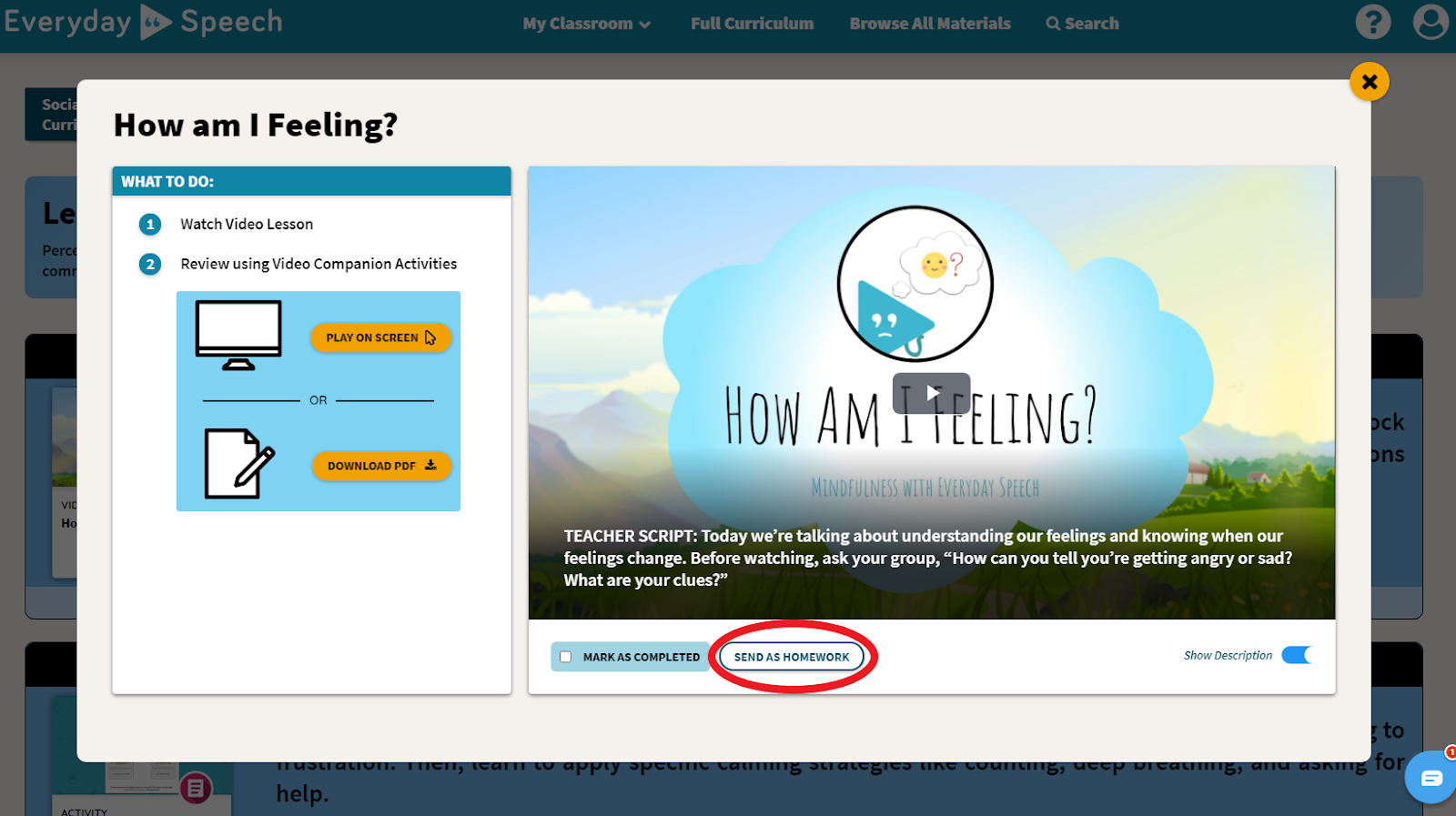 ---
When you click this button, you will receive a unique link that will allow the student to open the material and view it at home.
Students and families do not need their own account to view materials that have been sent as homework. When you send a homework link to your students or their parents, they will only have access to that specific link. They will not be able to access any other materials through your account.
You can share this link with the student via Email, Google Classroom or any other communication tool.
You can see a complete history of all your shared homework links here!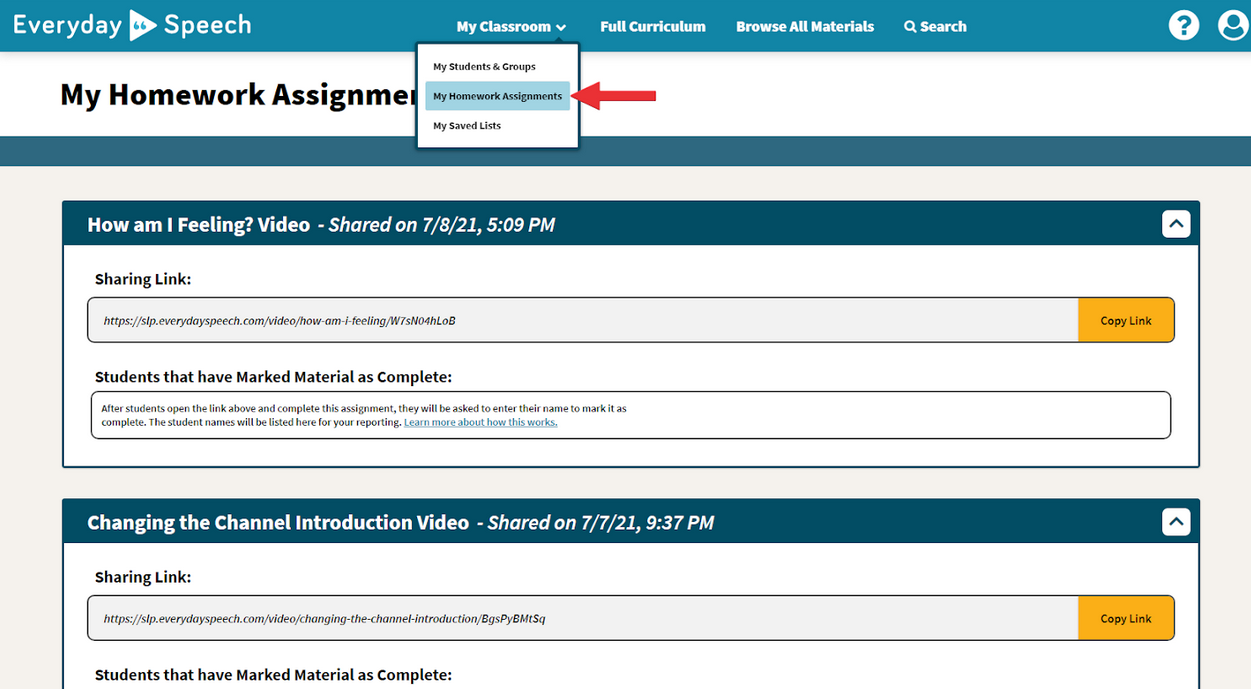 ---
Once a student has watched the full video, played the game, or completed the activity you have sent, they will be prompted to write their first name and last initial. On your account, you will see that the student has marked the material as complete: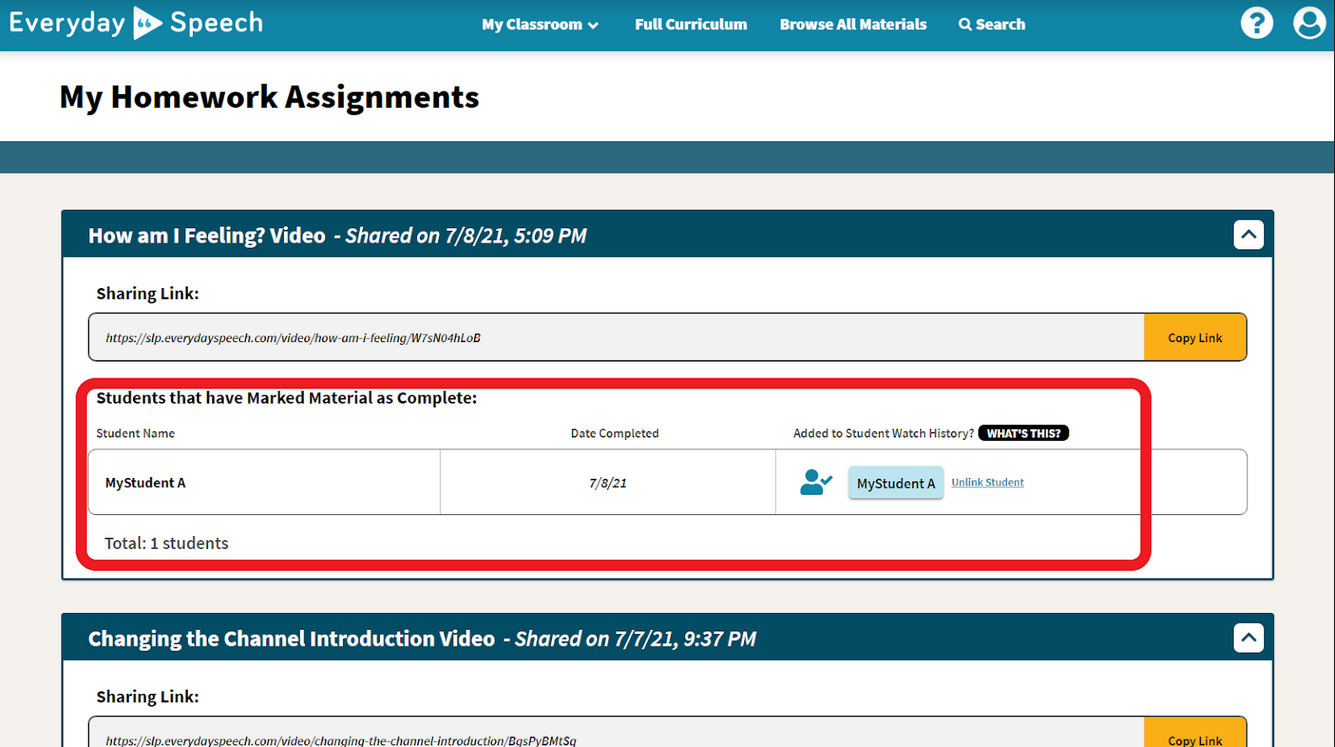 ---
Settings
If you click on the Person icon in the upper right hand corner you can navigate to your Settings.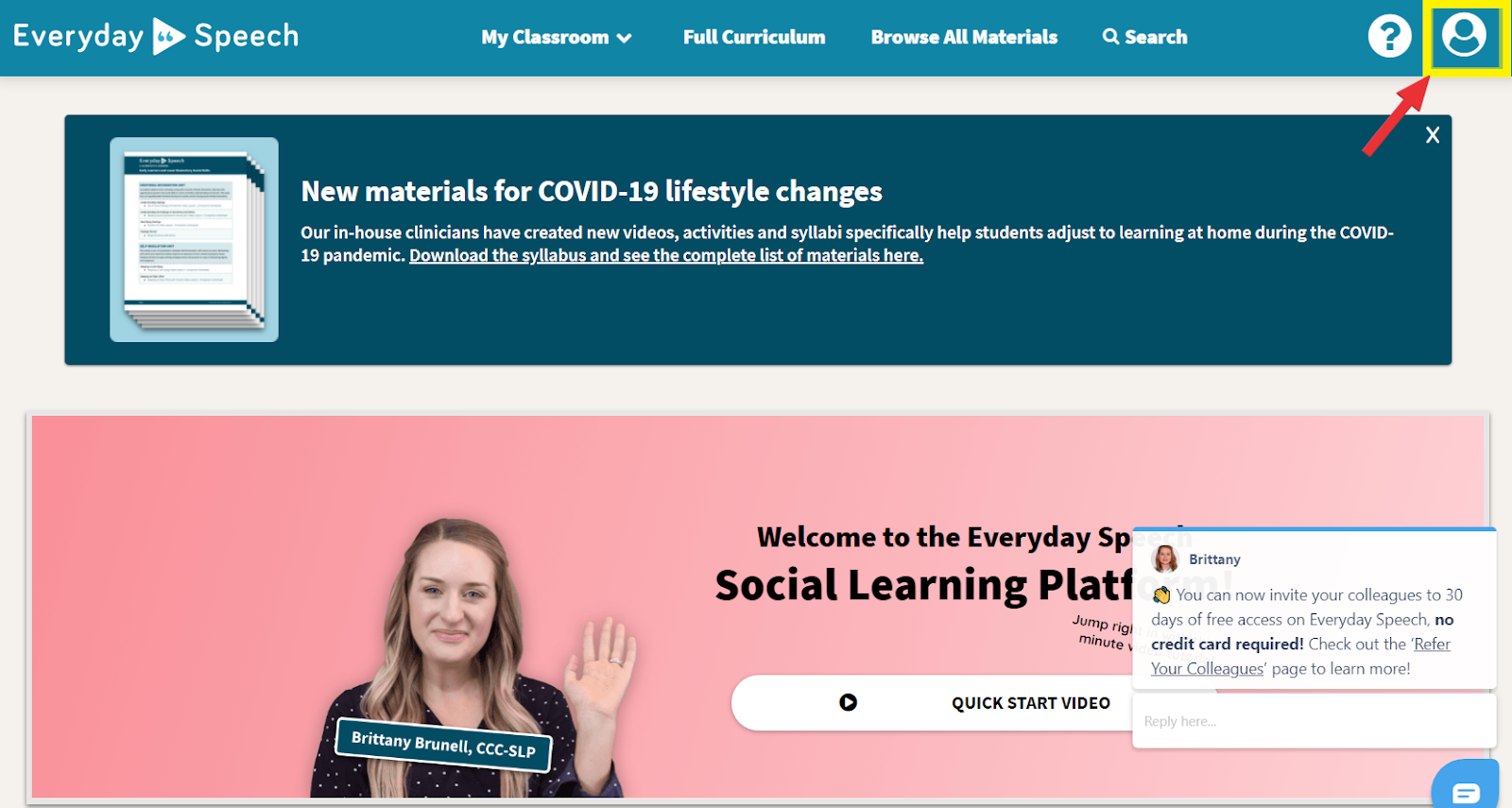 ---
Here you can update your name and password, and reset the SEL curriculum.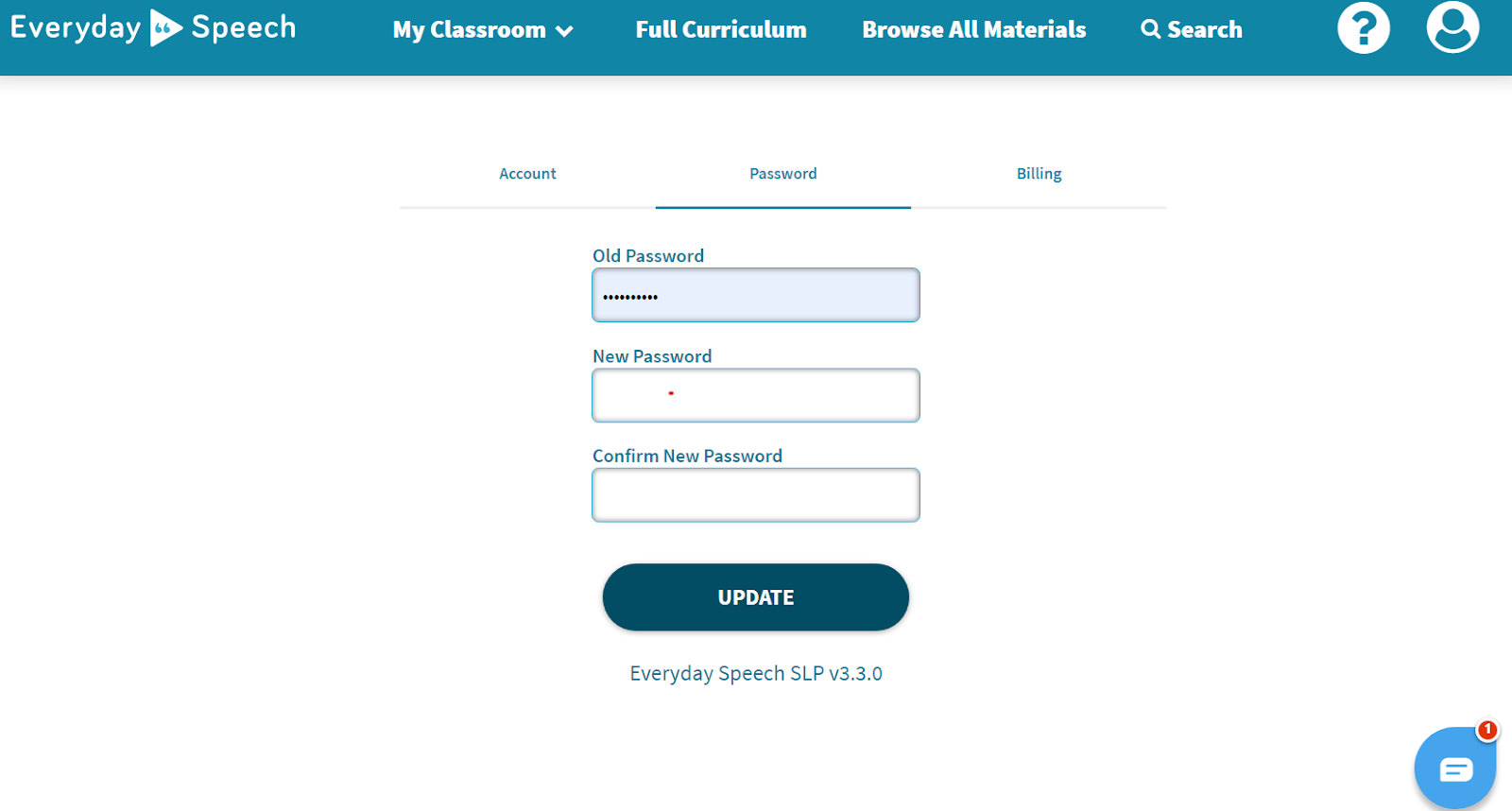 ---
Wrapping Up
We hope you enjoyed this walkthrough of our SEL curriculum! Happy teaching!